30 November 2010
Osram Opto releases LM-80 reports for OSLON SSL and Golden DRAGON Plus LEDs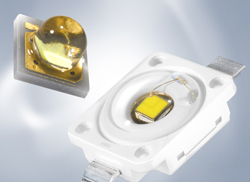 Osram Opto Semiconductors GmbH of Regensburg, Germany says that it is one of the first firms to have met the criteria of the LM-80 (lumen maintenance) test requirements with two different product families: the ceramic OSLON SSL and the Golden DRAGON Plus pre-mold families of high-power LEDs.
Picture: Both the OSLON SSL (left, with the ceramic package) and the Golden DRAGON Plus (right, with the premold package) have completed the LM-80 test.
For LED lamp, light engine and luminaire manufacturers to receive an Energy Star certificate for their products, the US Environmental Protection Agency (EPA) requires that the LEDs used in such products must comply with LM-80 test requirements. LM-80 test reports provide evidence that the LED component can be assessed and compared across all LED makers.
Inaugurated by the Illuminating Engineering Society (IESNA), the LM-80 test offers luminaire manufacturers a means of comparing the performance of LEDs from different suppliers based on reliable and comparable data. Successful completion of the LM-80 test is an essential step toward receiving an Energy Star certificate from the EPA.
The aim of the LM-80 test is to demonstrate, in an abbreviated test of 6000 hours (about nine months), a consistent industry method of measuring lumen maintenance of solid-state lighting (SSL) sources, such as LED packages, arrays and modules. LM-80 specifies that LEDs are tested at three different temperatures to assure performance in various conditions. In addition to the two pre-defined temperatures of 55°C and 85°C, Osram has used a third temperature of 105°C to simulate the requirements of highly demanding applications.
"Other products are already in the test phase, so in the near future all our high-power LEDs for general lighting will comply with LM-80 testing requirements," says Artur Groesbrink, who is responsible for standardization at Osram Opto. "Luminaire manufacturers will then have an important platform for Energy Star certification by the EPA," he adds. "The Energy Star certification is essential if companies want to market their products successful in the US."
Visit: www.osram-os.com/standardization