News
8 November 2010
Rubicon produces first boule from new sapphire plant
On 5 November, Rubicon Technology Inc of Bensenville, IL, USA, which makes monocrystalline sapphire substrates and products for the LED, RFIC, semiconductor and optical industries, celebrated completion of the first boule produced at its new 135,000ft2 sapphire crystal manufacturing plant in Batavia, IL (in the Chicago Metropolitan area near Rubicon's Franklin Park and Bensonville facilities). The large-diameter 6-inch sapphire produced from boules grown at the facility will be exported to Rubicon's new plant in Malaysia for cutting and polishing into finished wafers.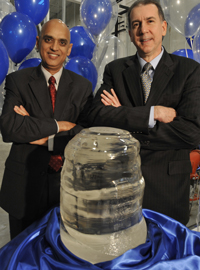 Picture: Rubicon's president & CEO Raja Parvez (left) and CFO William Weissman (right) with the Batavia plant's first sapphire boule.
The new facility was established to meet increasing demand from Asian manufacturers of LEDs used in LED-based consumer electronics (including HDTVs, smartphones and laptops) and general lighting products (such as LED light bulbs). "Demand for high-quality sapphire substrates is high as industries ranging from consumer electronics to general and architectural lighting have tapped LEDs as a light source for their next-generation products," says president & CEO Raja Parvez. Rubicon's capacity to deliver high-yield, large-diameter sapphire wafers will help to satisfy the large volumes of sapphire needed to meet growing demand for LEDs, he adds. "This is especially important as the demand for LED-based light bulbs grows with worldwide consumer adoption."
Market research firm iSuppli expects the LED market to nearly double to almost $14.3bn by 2013, driven by the penetration of LEDs into the general illumination market. In particular, government regulators worldwide looking to save energy are driving the move to LED light bulbs. LEDs are emerging as a replacement for incandescent bulbs due to their durability, energy efficiency, enhanced aesthetics, and low-voltage operation versus less clean options such as compact fluorescent bulbs that contain mercury, Rubicon adds.
Rubicon claims that its ability to cost-effectively produce low-defect, large-diameter sapphire wafers is critical to making the production of high-quality, affordable LED-based products. The transition to large-diameter wafers already has begun: earlier this year, the firm announced that it had entered into a $71m agreement to supply 6-inch polished substrates to a major LED chip maker.
See related items:
Sapphire maker Rubicon's revenue grows more-than-expected 30% in Q3

Search: Rubicon Sapphire substrates
Visit: www.rubicon-es2.com
For more: Latest issue of Semiconductor Today