18 November 2010
SPTS opens San Jose facility as it celebrates anniversary
SPP Process Technology Systems Ltd (SPTS) of Newport, Wales UK, the plasma etch & deposition equipment subsidiary of Japan's Sumitomo Precision Products Co Ltd (SPP), has celebrated one year since it began operations in November 2009, while opening its new office in San Jose, CA, USA.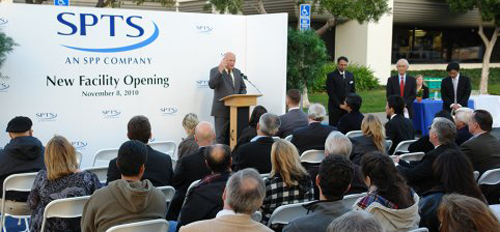 Picture: SPTS president Bill Johnson addresses staff and invited guests at San Jose opening ceremony.
Consisting of a manufacturing space of about 28,000 square feet plus 17,000 square feet in warehouse space, the new facility will be home to its Thermal Products Division (relocated from Scotts Valley, CA) as well as its sales and support headquarters for North America, with more than 80 staff serving the firm's global customer base.
In October 2009, Sumitomo Precision Products (SPP) acquired the assets of Aviza Technology Inc (including the Newport-based Single-Wafer process equipment subsidiary Aviza Technology Ltd and Aviza's Scotts Valley-based Thermal Products business). SPP subsequently integrated these with its plasma etch & deposition equipment subsidiary Surface Technology Systems (STS) into the newly formed SPTS. "November marks a year since the formation of SPTS," says SPTS' president & CEO William Johnson.
The company has since grown 50% faster than the estimated 130% growth of the global wafer fabrication equipment segment during the past year. The firm's Single Wafer and Thermal Products divisions derive about 80% of current business from four major market segments: advanced packaging including through-silicon via (TSV) and wafer-level packaging, compound semiconductor including high-speed electronics and light-emitting diodes (LEDs), power semiconductors, and micro-electro-mechanical systems (MEMS).
"We've had great support from our customers in the past 12 months, and moving the North America headquarters and the Thermal Products Division back to the heart of Silicon Valley demonstrates our commitment to serving their needs," says Johnson.
"With less than two months left in 2010, we are on course to triple our revenue compared to the combined pre-acquisition entities in 2009," says Johnson. "To attain this growth in 12 months while simultaneously completing the company and product integration is a tremendous achievement," he adds, highlighting a company record of more than 40 new customer or technology wins in 2010.
"SPTS grew one-and-a-half times faster than the next vendor in our peer group," says Susumu Kaminaga, chairman of SPTS and president of SPP, who also hails new penetration in the firm's chosen market segments. "Our goal is to continue that growth with the Thermal Products Division and the Single Wafer Division based in the UK as we leverage our market synergies," adds Johnson.
Building on current growth momentum, SPTS looks to future technology investments by committing to joint ventures and technology partnerships. In August, it announced a AUS$5.2m investment in BluGlass Ltd of Silverwater, Australia, with which it is forming a joint venture. Spun off from the III-nitride department of Macquarie University in 2005, BluGlass has developed a low-temperature process using remote-plasma chemical vapor deposition (RPCVD) to grow materials including gallium nitride (GaN) and indium gallium nitride (InGaN), potentially offering cost, throughput and efficiency advantages for the production of LEDs. In addition, in October SPTS announced an agreement to develop 300mm (TSV) 3D-IC processes at CEA-Leti's 300mm facilities in Grenoble, France. SPTS, which claims to be an early proponent and market leader in TSV equipment development, will team its process expertise in etch and deposition technologies with Leti's device know-how to optimize an integrated process flow.
SPTS concludes that, with a surge in all its served market segments, it expects order intake to remain strong through the remainder of 2010 and into 2011.
See related items:
SPTS triples first-half revenue, focusing on emerging micro device sector
Tags: SPTS
Visit: www.spp-pts.com