News
2 November 2010
TriQuint launches 30W GaN PA with 30% PAE for counter-IED EW/defense systems
At this week's annual Military Communications (MILCOM 2010) conference in San Jose, (31 October – 3 November), RF component maker and foundry services provider TriQuint Semiconductor Inc of Hillsboro, OR, USA is launching a 30W gallium nitride (GaN) power amplifier with high power and efficiency for counter-IED (C-IED) and other EW (electronic weapons) systems.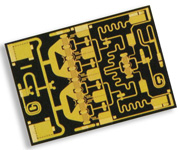 Fabricated using TriQuint's production-released GaN-on-SiC process, the TGA2576 delivers 30W of saturated output power in the 2.5-6GHz range. It typically offers power-added efficiency (PAE) of 30% and small-signal gain of 25dBm.
Die-level samples will be available by the end of November; packaged samples are expected in early 2011.
Visit: www.triquint.com
For more: Latest issue of Semiconductor Today