30 November 2010
TriQuint wins $17.5m TITLE III GaN manufacturing development contract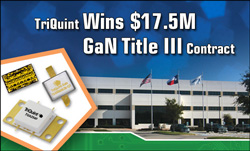 The US Air Force Research Laboratory (AFRL) has awarded RF component maker and foundry services provider TriQuint Semiconductor Inc of Hillsboro, OR, USA a Defense Production Act Title III gallium nitride (GaN) manufacturing development contract worth $17.5m.
The overall goal of the contract is to increase yield, lower costs and improve time-to-market cycles for defense and commercial GaN integrated circuits on 100mm wafers in high-power, high-frequency device manufacturing. TriQuint says that the contract was awarded on the basis of its previous success developing new GaN technologies and products for US Defense Advanced Research Projects Agency (DARPA) technology development programs.
The new GaN program is divided into three phases, with goals and assessment criteria at each milestone. The primary first-phase goal is to make a baseline assessment of manufacturing readiness. In the second phase, TriQuint will work to improve and refine the production process to reach a manufacturing readiness level (MRL) of 8 in developing its monolithic microwave integrated circuits (MMICs). In the final phase (expected to conclude in 2013), the program aims to demonstrate MMIC fabrication that meets full performance, cost and capacity goals. TriQuint is the program's prime contractor and all the work is to be performed at its facility in Richardson, TX.
TriQuint has conducted GaN research and product development for both defense and civilian applications since 1999. In addition to its military design and manufacturing work, it has launched GaN amplifiers for wireless communications and a range of other applications over the last three years. TriQuint was the first to offer high-frequency, high-power commercial GaN foundry services (0.25 micron GaN on SiC) in 2008.
"This program will take the technology from the early stages of production to a mature manufacturing process enabling next-generation systems," comments TriQuint vice president Tom Cordner.
See related items:
TriQuint wins AFRL contract for GaN modules to extend range of drone aircraft
Visit: www.triquint.com