News
2 November 2010
USHIO launches first 6" full-field projection exposure system for LED chip making
USHIO America, Inc of Cypress, CA, USA (a subsidiary of USHIO Inc of Tokyo, Japan that provides specialty and general illumination lighting solutions) has started marketing in the USA what it claims is the world's first 6-inch full-field projection exposure system for manufacturing LED chips.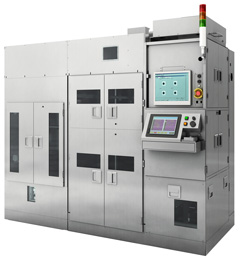 Designed specifically for LED manufacturing, the system is intended to greatly reduce the initial cost compared with using a semiconductor stepper system for manufacturing LEDs.
In LED manufacturing, exposure equipment has been used to form electrodes, electrical circuitry, and passivation layers on the sapphire substrate, in the same manner as for semiconductor device making. In general, stepper systems (step & repeat projection exposure systems) or contact exposure systems used for manufacturing semiconductors have also been used for 2-inch or 4-inch sapphire wafers.
As the applications of LEDs have increased, demand has risen dramatically while the price has fallen significantly, says USHIO. To meet growing demand, LED chip makers have increased wafer sizes from 2-inch or 4-inch wafers to 6-inch wafers in order to enhance productivity and reduce manufacturing cost (through increasing the number of chips produced from each wafer).
However, the increase in wafer size has caused problems such as warpage or distortion of wafers that cannot be eliminated by conventional stepper or contact exposure systems, lowering the yield due to deposition errors. In addition, conventional exposure systems require changes in system settings and the replacement of parts for wafer size conversion. This can cause additional cost and downtime, so it has been a challenge in technology and cost to enhance productivity by increasing wafer size, comments USHIO.
USHIO has therefore developed the new model UX4-LEDs exposure system. The UX4-LEDs is based on the same platform as USHIO's field-proven UX series full-field projection exposure systems for semiconductors, flat-panel displays (FPDs), printed-circuit boards and MEMS (micro-electro-mechanical systems), of which USHIO has already installed more than 1000 units worldwide. However, compared with the conventional UX series, the UX4-LEDs' footprint is reduced by at least 50% (to 3.0m 2 or less).
The UX4-LEDs allows full-field exposure of 6-inch wafers. USHIO developed the projection lens and the alignment and wafer transfer mechanism so that it was optimized for manufacturing LEDs. This allows an enhancement in the detection accuracy of alignment marks with low visibility (such as those for transparent electrodes) to achieve high overlay accuracy. The system also has an original wafer chucking method for eliminating warpage or distortion of wafers, and a projection lens with a deep depth of focus minimize variation in line width. The system requires no contact between the mask and wafer, avoiding potential damage to both and preventing defects in circuit patterns. It also requires neither the mask replacement nor the cleaning that can cause system downtime. Throughput is boosted by 300% compared with conventional stepper systems.
In addition, the use of a modular structure for major system components allows easy specification changes or upgrade as well as easy maintenance. In particular, a flexible system design allows automatic wafer size conversion, enabling an increase in wafer size without changing system settings or replacing parts, and hence requiring no downtime.
"It will allow major LED manufacturers to dramatically increase their mass-production capacity while lowering their manufacturing cost," says USHIO America's president/CEO Kenji Hamashima about the new UX4-LEDs system. Compared with conventional stepper systems, running cost is reduced by 80%, lowering the cost of ownership (CoO).
"We expect to ship the first unit within this year, since several major LED manufactures have already been evaluating this system for mass-production," Hamashima adds.

Search: LED chips
Visit: www.ushio.com
For more: Latest issue of Semiconductor Today