News
9 November 2010
Walsin Lihwa's 49% stake to propel CIGS PV firm Solarion into mass production
Walsin Lihwa Corp of Taipei, Taiwan has signed an investment cooperation agreement with Solarion AG of Leipzig, Germany to mass produce the latter's copper indium gallium diselenide (CIGS) thin-film photovoltaic cells and modules, and to develop next-generation solar energy technologies.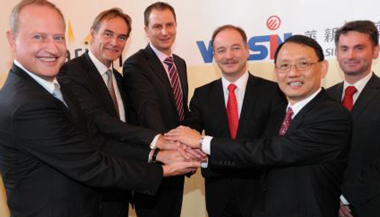 Picture: Walsin Lihwa chairman Yu-lon Chiao (second right) completes €40m investment in Solarion.
Walsin Lihwa was founded in 1966 to make copper cables and wires, power cables and wires, and specialty steel products but, as an international conglomerate with diverse investments in high-tech industries, in recent years its long-term strategy has involved it entering sectors spanning micro-electromechanical systems (MEMS), LEDs and solar energy.
Founded in 2000 as a spin off from the Leibniz Institute for Surface Modification, in 2002 Solarion established Europe's first pilot line for manufacturing CIGS thin-film cells on a flexible carrier material. Its technology is based on proprietary ion-beam-assisted deposition of the CIGS absorber in a roll-to-roll process. Advantages are its low deposition temperature, improved solar cell energy conversion efficiency (claiming an average of 10%), higher process speed, and lower energy and material costs.
The use of a lightweight, flexible polyimide carrier enables new fields of photovoltaic applications, including building-integrated photovoltaics (BIPV), it is claimed. According to Solarion's chairman Dieter Waffel, cooperation with Walsin Lihwa paves Solarion's way to mass production, as well as helping the development of CIGS products and technologies featuring lower cost and higher efficiency.
Walsin Lihwa, via its subsidiary Ally Energy Ltd BVI, is investing €40m to acquire a 49% stake in Solarion AG as well as a license to its CIGS technology patents, with Walsin Lihwa's chairman Yu-Lon Chaio and Solarion's chairman Dieter Waffel signing agreements covering not only technology licensing but also technical collaboration. The investment is also being supplemented by €20m in public subsidies from the city government of Leipzig (via a grant from the Development Bank of Saxony) under an incentive program to solicit foreign investment. Both Sven Morlok (State Minister of Economic Affairs of Saxony) and Barkhard Jung (Mayor of Leipzig City) attended the signing ceremony at Leipzig City Hall.
"We are pleased that we have found Walsin Lihwa, a global player and a strong partner, to support our long-planned global expansion strategy," says Solarion's CEO Karsten Otte. Solarion also received support from various bodies in its latest development. "We want to express our thanks especially to the Saxon Development Bank, CMS Hasche Sigle Düsseldorf, Euflex, Apricum and the Economic Development Offices of Saxony and Leipzig," says Otte.
Walsin Lihwa and Solarion AG will together pursue mass production of CIGS thin-film solar cells by setting up an integrated solar cell and module plant in Leipzig. Construction should be completed in 2011 and commercial production should start in 2012. With a staff of 140 staff, initial annual capacity will be 20MW, but this will in future be boosted by a further 180MW facility to 200MW. Moreover, the patent license will enable Walsin Lihwa to independently manufacture and sell its own CIGS-based solar products.

Search: Walsin Lihwa Solarion CIGS PV
Visit: www.solarion.net
Visit: www.walsin.com
For more: Latest issue of Semiconductor Today