News
21 October 2010
Anadigics launches high-bandwidth RF amplifier for FTTH and RFoG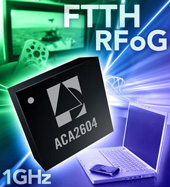 Responding to increasing demand for wider-bandwidth data pipes for fiber-to-the-home (FTTH) and RF-over-glass (RFoG) systems, at this week's SCTE Cable-Tec Expo 2010 in New Orleans (20–22 October) broadband wireless and wireline communications component maker Anadigics Inc of Warren, NJ, USA announced an upgrade to its ACA2604 RF amplifier supporting operation from 50MHz up to 1GHz.
The improved ACA2604 enables cable MSOs and telco service providers to increase data rates as well as the number of channels available to consumers. This functionality is essential, says Anadigics, as sales continue to grow for high-definition TVs, video-on-demand (VOD), and other OTT services which require significant amounts of bandwidth.
The ACA2604 is designed for use in fiber-to-coax equipment, such as optical network units for FTTH and RFoG systems incorporating RF overlay, and fiber-to-the-building (FTTB) optical receivers for multiple dwelling units. The amplifier, driven by the forward-path photodiode in a fiber-optic RF receiver, forms the optical-to-electrical interface and boosts overall output to the in-home coax wiring.
"Delivering 1GHz performance from the ACA2604 is a significant milestone in our efforts to ensure that broadband service providers have the components necessary to provide the highest-performance networks," says Joe Cozzarelli, senior director, Broadband RF product line. "As the industry continues to evolve and equipment performance requirements increase, we'll continue to push the limits of innovation to keep our customers ahead on the broadband demand curve," he adds.
Operating from a single +5V supply and offered in an RoHS-compliant 5mm x 5mm x 1mm surface-mount package (pin compatible with Anadigics' ACA2601 RF amplifier), the ACA2604 amplifier offers low equivalent input noise of 4.5pA/rtHz and features 22dB gain adjust. Reference circuits and BOMs are available for common applications.

Search: Anadigics RF amplifier FTTH
Visit: www.anadigics.com
For more: Latest issue of Semiconductor Today