News
21 October 2010
Anadigics' upstream-path RF amplifier enables higher data rates to more CATV subscribers via DOCSIS 3.0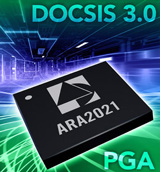 At this week's SCTE Cable-Tec Expo 2010 in New Orleans (20–22 October), broadband wireless and wireline communications component maker Anadigics Inc of Warren, NJ, USA is launching its latest upstream-path RF amplifier, which is offered in a 20-pin, 4mm x 4mm x 1mm MLPQ (QFN) package and optimized for use in DOCSIS-compliant cable modems, CATV set-top boxes (STBs), residential gateways and Embedded-Multimedia Terminal Adapter (E-MTA) applications.
Designed to support a new high-power operation mode specified in the recently amended DOCSIS 3.0 telecoms standard, the ARA2021 provides the fastest broadband upstream pipe to subscribers located further from the CATV head-end. Anadigics says that the device's performance enables more subscribers on the network to take advantage of the fastest possible data transmission rates, while supporting 'green' energy initiatives by reducing power consumption by up to 97% in standby mode (via a low-power transmit disable mode that consumes just 35mW).
Managed by non-profit R&D industry consortium CableLabs, the DOCSIS standard was created to help cable operators transition their businesses from solely delivering TV programming to becoming full-service providers of video, voice and data services. DOCSIS 3.0 is the current version of the standard, which includes a number of features such as channel bonding techniques that provide cable operators with a flexible way to boost end-user data speeds to as much as 160Mbps downstream and 120Mbps upstream.
"Based on the broadband consumers' growing appetite for bandwidth-intensive applications such as remote hard-drive backup, sharing of large data files, and HD video uploads, industry analysts foresee steady growth in the coming years for DOCSIS 3.0-compliant products," says Joe Cozzarelli, Anadigics' senior director, Broadband RF product line. "We've developed the ARA2021 amplifier to meet the demanding requirements of CATV networks that can deliver the highest data rates and extended reach."
Operating at frequencies of 5–85MHz, the ARA2021 is a highly linear, programmable gain amplifier that integrates a digitally controlled, multiple-stage precision step attenuator (with up to 49dB of attenuation in 1dB increments) — with RF voltage gain of 35dB (at minimum attenuation) — and provides what is claimed to be extremely low harmonics and superior distortion performance at high output power levels (linear up to +67dBmV, single channel). This performance enables the amplifier to overcome long loop attenuation created by directional couplers, taps, attenuators, and other input losses, ensuring a high-quality signal at the head end.
Engineering evaluation samples of the ARA2021 are available for qualified opportunities.

Search: Anadigics RF amplifier CATV DOCSIS 3.0
Visit: www.anadigics.com
For more: Latest issue of Semiconductor Today