News
5 October 2010
France's DisaSolar to distribute Ascent's CIGS PV modules, including integration into train roofs and commercial signage
Ascent Solar Technologies Inc of Thornton, CO, USA has signed a distribution agreement with DisaSolar of Paris, France, a newly established subsidiary of Megamark/DisaTech Group (which provides complete solutions in architectural, industrial and corporate signage in France and other European countries) that is dedicated to flexible photovoltaics (PV) in the French market.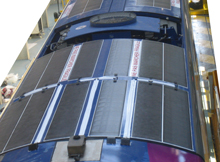 DisaSolar will begin distribution of Ascent's lightweight, flexible thin-film copper indium gallium diselenide (CIGS) solar modules for off-grid applications, integrating flexible panels into passenger train roofs and commercial signage structures.
Picture: Ascent Solar's modules applied to SNCF train roof.
The agreement gives Ascent access to additional emerging market segments in Europe. Recently, the two firms demonstrated PV module integration into train rooftops in partnership with French regional rail company SNCF. Ascent says that the unique characteristics of its modules complement DisaSolar's heritage in system integration for transportation and corporate signage applications, enabling novel applications in emerging segments.
"Ascent Solar has a flexible, light-weight, CIGS solar module technology that is uniquely qualified to open new opportunities in everyday power generation," says DisaSolar's president Stephane Poughon. "Leveraging the expertise of Megamark/DisaTech Group combined with the quality and performance of Ascent Solar products, DisaSolar aims to quickly become a leading French provider of innovative integrated solar products," he adds.
"This relationship will give us access to new and emerging market opportunities in transportation that could provide significant growth over the coming years in France as well as other countries across the globe," says Ascent's president & CEO Farhad Moghadam. "We also expect that other products in our lineup of flexible, lightweight CIGS modules will be marketed through this relationship."

Search: Ascent Solar CIGS thin-film PV modules
Visit: www.ascentsolar.com
Visit: www.disasolar.fr
For more: Latest issue of Semiconductor Today