News
22 October 2010
LED production to grow 25% annually to $20bn in 2013
LED TV shipments in 2010 are projected to increase 10-fold from 2009 to 37.20 million units in 2010, driving LED production value up 55.6% to US$8.25bn, according to the Special Report 'LED: TV and lighting overview' from DIGITIMES Research (the research arm of Taiwan-based media outlet DIGITIMES Inc).
By application, portable devices accounted for 36% of the high-brightness LED market in 2009. However, in 2010, due to the significant rise in LED TV demand, large-size LED backlight units (BLUs) will account for a 28% share, surpassing portable devices for the first time.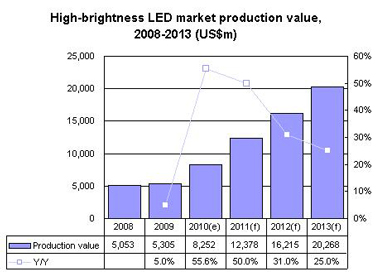 "Between 2011–2013, large-size LED BLUs will continue to represent the largest segment of the market, topping 41% in 2013," says the report's author, analyst Jessie Lin. "In addition to the rise of LED TV applications, LED lighting will begin to replace conventional lighting technology in the market. LED lighting will grab more than 10% of the market starting in 2012 and quickly move up to 16% in 2013."
Driven by the rise in LED TV applications and the trend of LED lighting starting to replace conventional lighting, DIGITIMES Research forecasts that, from 2011 to 2013, global LED production value will rise by at least 25% each year and surpass US$20bn.
However, while LED lighting's luminous efficiency is currently comparable to that of fluorescent lamps, LED lamps remain unpopular mainly because of their high costs. High costs make it difficult to adopt LED lighting unless governments offer subsidies, or consumers realize that the total costs for LED lighting may not be higher if its power savings, longer service life, lower carbon emissions and other advantages are taken into consideration, concludes the report.
See related items:
LED market to grow from $7bn in 2009 to $10.7bn in 2010 then $20.4bn in 2012
Taiwanese LED makers expanding to meet backlighting demand
LED-backlit TVs to reach 20% of 180m-unit LCD TV market in 2010

Search: HB-LED market
Visit: www.digitimes.com/Reports
For more: Latest issue of Semiconductor Today