News
11 October 2010
Epistar raises AlGaInP LED efficiency record at 20mA by 26% from 133 to 168lm/W
Taiwan's largest LED chipmaker Epistar Corp of Hsin-chu Science-based Industrial Park has announced the development of a new generation of its Aquarius-series AlGaInP LEDs that emits at an efficacy boosted by 26% from the previous record of 133lm/W (from Epistar's AX14 LED, announced on 15 March) to 168lm/W.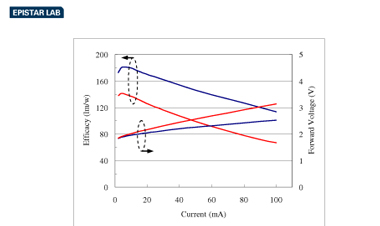 Figure: New generation of Aquarius-series chips have higher efficacy and lower forward voltage than AX14.
Applying novel light-extraction technology from Epistar Lab, the new LED's Lambertian transmission raises efficacy to 168lm/W at a dominant red wavelength of 610nm when driven by a current of 20mA (or 180lm/w at 6mA) from a 0.35mm x 0.35mm chip. The horizontal chip structure was designed to satisfy chip-on-board packages for lighting applications that require multiple chips in series on non-conductive substrates.
Epistar reckons that the new LED's performance promises to make the small chips a preferred choice for outdoor displays and red–green–blue (RGB) back-light unit (BLU) applications. It also adds that the development allows warm-white LED solutions with higher efficacy and better color rendering index (CRI) to be provided via color mixing than can be achieved through conventional conversion of blue LEDs with phosphors.
So far, the new generation of Aquarius-series AlGaInP LED has been demonstrated primarily in Epistar Lab, but plans are in motion to transfer the technology to Epistar's production line. Moreover, Epistar Lab is developing higher-efficacy AlGaInP LEDs that should facilitate lighting solutions with both high-CRI and high-efficacy warm-white light for lighting applications as well as high performance in RGB BLUs.
See related items:
Epistar achieves 135lm/W white LED operation at 1W
Visit: www.epistar.com.tw
For more: Latest issue of Semiconductor Today