News
18 October 2010
OIPT launches next-gen HB-LED batch plasma production tools
UK-based equipment maker Oxford Instruments Plasma Technology (OIPT) has launched the PlasmaPro NGP1000 HB-LED range of plasma etch and deposition tools, which offer what is claimed to be unparalleled throughput with batch sizes from 61 x 2" wafers up to 7 x 6" wafers, coupled with high-quality device performance and yield for high-brightness light-emitting diode manufacturing.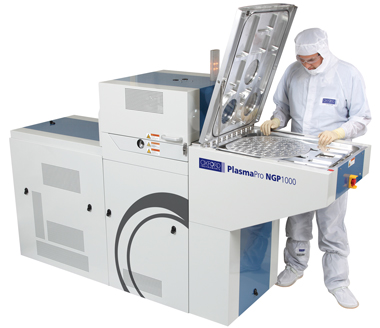 Picture: OIPT's PlasmaPro NGP1000 HB-LED plasma etch and deposition tool.
The range has been designed to enhance throughput, maximize uptime and reduce cost of ownership through reliable hardware and ease of service. In particular, the NGP1000 platform has been optimized for batch production, with a vacuum load-lock as standard. Open load and 4-sided cluster options are available.
"High-brightness LEDs are now an integral part of our lives, providing lighting solutions for a growing number of applications, from backlit televisions to general lighting," comments sales director Mark Vosloo. "The industry justifiably demands high throughput, device quality and lower cost of ownership, and the NGP1000 offers all these solutions," he claims. OIPT has supplied high-volume batch plasma tools in the production market for over 15 years, with a wide installed base of HB-LED production systems, he adds.
The PlasmaPro NGP1000 PECVD system is designed for the deposition of SiO2 and SiNx layers, and incorporates a large-area electrode and optimized showerhead design, allowing up to 61 x 2", 15 x 4" or 7 x 6" wafers in a single load. The PlasmaPro NGP1000 etch system, designed for GaN, AlGaInP and sapphire etch, offers batch sizes up to 55 x 2", 13 x 4" or 5 x 6", yielding what is claimed to be market-leading volumes of wafers per month.
What is said to be excellent uniformity over large areas is provided by the new 60MHz Viper plasma source, which achieves comparable plasma densities to ICP (inductively coupled plasma) sources, maintaining the benefits of high etch rates and low damage.
See related items:
OIPT launches the PlasmaPro NGP80, the first in a new range of etch, deposition and growth systems
See: Oxford Instruments Company Profile

Search: OIPT Etch GaN AlGaInP Sapphire
Visit: www.oxford-instruments.com
For more: Latest issue of Semiconductor Today