News
14 October 2010
Optogan appoints general manager of global sales & marketing
LED maker Optogan Group is boosting its sales activities by appointing Markus Zeiler as general manager of global sales & marketing. With a decade of experience in LED sales, marketing and engineering at a global level, Zeiler will oversee the expansion of Optogan to worldwide operations.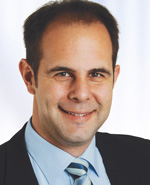 Founded in Helsinki, Finland in 2004 by Russian entrepreneurs and scientists from Ioffe Institute in St Petersburg, Optogan is a vertically integrated manufacturer of high-brightness LEDs. In addition to Optogan Group having locations in Helsinki and St Petersburg, since 2005 Optogan GmbH in Germany has been developing chip technologies in Dortmund, and is currently ramping up its new production facility in Landshut.
Picture: Markus Zeiler.
Zeiler previously worked at Osram for more than 10 years, most recently heading the marketing team for the LED consumer product business (e.g. LCD TV and mobile phone components). His knowledge and background will support activities to take advantage of the booming demand for LEDs in LCD backlighting. At the same time, Zeiler will prepare the launch of LED lamp and luminaire sales on a global level, in order to build on the success that Optogan is currently experiencing in Russia.
After degrees in Physics (specializing in semiconductors and crystallography) at Germany's University of Regensburg and Reading University in the UK, Zeiler started his career at Osram Opto Semiconductors GmbH in 2000. His work has led him through engineering, project management, marketing and sales activities for LEDs and sensors, with applications ranging from consumer, automotive and industrial to lighting. From his engineering background he is the holder of more than a dozen LED design and application patents. Between 2005 and 2008 Markus Zeiler made contributions in business development for new LED applications in the Asian region, working with several large consumer firms. From 2008 onwards Zeiler spent two years in Japan establishing a key sales account for a top international consumer electronics brand. This year those operations were extended to a global level within his marketing function at the headquarters in Germany.
"We are happy that he can bring his business leadership, sales know-how and marketing expertise to Optogan," comments CEO Maxim Odnoblyudov. "Leading chip technology combined with competitive pricing, speed and a very highly motivated workforce are the key reasons why I joined Optogan," says Zeiler.
LEDs in lighting applications have seen tremendous growth over the last few years, comments Optogan. The greatest potential is currently LED backlighting for LCDs. The second wave of business growth will go hand in hand with the continuous rise in energy-saving lighting applications for indoor and outdoor use. "The addition of such top professionals to our team will enable us to achieve our ambitious plans on the global market," says executive VP Alexey Kovsh. "Our LEDs will soon be part of LCD TVs, street lighting and indoor luminaries all over the world," adds Zeiler.
See related items:
Optogan first in Europe to order Aixtron CRIUS II for GaN LED production
Visit: www.optogan.com
For more: Latest issue of Semiconductor Today