News
28 October 2010
Osram launches OSLON SSL 150 LED, with 150° beam angle to boost luminaire efficiency
At the electronica 2010 trade show in Munich, Germany (9–12 November), Osram Opto Semiconductors GmbH of Regensburg, Germany will launch its new OSLON SSL 150 LED.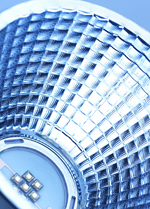 While adding to its OSLON SSL product family (which has a beam angle of 80°), the OSLON SSL 150 has a beam angle of 150°, which enables luminaires to be made simpler and more efficient, the firm claims. Retrofit and downlight designs, in particular, can benefit from the even distribution of light, which allows designers to better manage the light in external reflectors. Additionally the OSLON's small footprint can simplify the design of lamps and luminaires and facilitate low-profile designs.
The new LED's wide beam characteristic enables the light to be used in reflector systems with much lower light losses, so LED lamps and luminaires designed with OSLON SSL 150 are more efficient. "With its low-profile and very compact design [measuring 3mm x 3mm], the new OSLON SSL 150 can be closely clustered without creating shadow effects," says Martin Wittmann, marketing manager Solid State Lighting. "In reflector applications for example, the luminaire efficiency can be increased by more than 5%. The reflectors can also be low-profile and the luminaire itself needs only a shallow mounting depth," he adds. "Thanks to these properties the LED offers flexible design options for high-performance lighting solutions."
The OSLON SSL 150 also suits other applications such as diffused lighting in suspended ceilings and wide-area backlighting with no obvious spots of light. Additionally, uniform illumination of the diffuser is possible in retrofits that aim to simulate incandescent or halogen light.
Color mixing is also easier. If OSLON SSL LEDs in different colors are used in a cluster, then the colors can be mixed at the reflector level, which is much less complex than mixing colors with secondary lenses.
The LED is based on a 1mm2 chip, providing a typical brightness of 92lm at 3000K at an operating current of 350mA and 156lm at 700mA. It is available in all white tones (2700–6500K) and in different colors.
Visit: www.osram-os.com/electronica2010
For more: Latest issue of Semiconductor Today