News
27 October 2010
SEMI Europe's Standards Awards honor Liverpool's Williams and Freiberger's Bindemann
At last week's SEMICON Europa 2010 trade show in Dresden, Germany (19–21 October), industry association SEMI announced that Paul Williams of the University of Liverpool and Roland Bindemann of Freiberger Compound Materials received International Standards awards.
Williams received a Standards Leadership Award for his dedication in leading the SEMI Standards Precursors Task Force, while Bindemann received a Standards Honor Award for his dedication to the advancement of SEMI Standards. The SEMI International Standards Program was established in 1973 with the aim of benefiting the worldwide semiconductor, photovoltaic and emerging markets industries by helping to increase productivity and reduce costs.
Williams, formerly with precursor chemical manufacturer SAFC Hitech in Bromborough, UK but currently with the University of Liverpool, has led the SEMI Standards Precursors Task Force since 2005. SEMI says that Williams consistently built consensus while setting guidelines and seeking input from interested parties. Under his leadership, four major documents were published and four more draft documents are almost ready for balloting. The SEMI Standards Leadership Award was presented to Williams for his outstanding leadership in guiding the SEMI International Standards Program.
Since 1993, Dr Bindemann of Germany-based compound semiconductor substrate maker Freiberger Compound Materials GmbH has been involved with standardization efforts in Europe. In 2003, he was appointed as co-chair of the SEMI Europe Compound Materials Standards Committee. Now retired from Freiberger, he continues to be sponsored by the firm to support SEMI European Standardization activities. The SEMI Standards Honor Award was presented to Bindemann for his long-standing dedication to the advancement of SEMI Standards.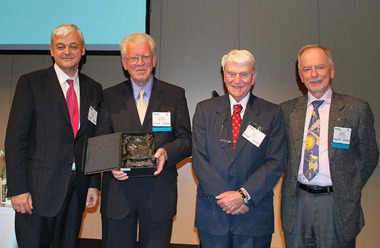 Picture: Freiberger's Roland Bindemann receiving the award.
"Paul Williams and Roland Bindemann received these Standards awards for exceptional commitment to the advancement of SEMI International Standards," says Heinz Kundert, president of SEMI Europe of Brussels, Belgium. "SEMI is grateful for their commitment to the SEMI International Standards Program."

Search: Freiberger
Visit: www.semi.org/europe
For more: Latest issue of Semiconductor Today