News
21 October 2010
SUNRISE test project unveiled by National Research Council of Canada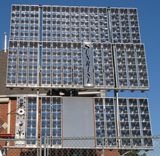 The National Research Council of Canada (NRC) has unveiled the SUNRISE (Semiconductors Using Nanostructures for Record Increased in Solar-cell Efficiency) test installation in the FlexHouse demonstration home of the Canadian Centre for Housing Technology (CCHT) at the NRC's Institute for Research in Construction (NRC-IRC) in Ottawa, Ontario. The project was formally started up in a ceremony hosted by Gary Goodyear, Minister of State (Science and Technology), and NRC president John McDougall.
SUNRISE is a collaborative research project between industrial partners OPEL Solar Inc of Toronto, Ontario, which makes high-concentration photovoltaic (HCPV) panels (as well as solar trackers for mounting them), and Ottawa-based Cyrium Technologies Inc (which makes quantum-dot-enhanced multi-junction solar cells for CPV systems), as well as the NRC, the University of Ottawa's Centre for Research in Photonics, and the Université de Sherbrooke.
The project is focused on developing new ultra-high-efficiency solar cells in combination with OPEL's high-efficiency concentrator design. Paired with OPEL's dual-axis tracker, the new panels are expected to validate target efficiencies for both cells and the system.
Funded by the NRC, the Business Development Bank of Canada (BDC) and the National Sciences and Engineering Research Council of Canada (NSERC), the unveiling of the SUNRISE project represents the culmination of three years of research into using nanostructures to establish a higher level of energy efficiency and output from a CPV installation, says OPEL.
Visit: www.photonics.uottawa.ca/SUNRISE
For more: Latest issue of Semiconductor Today