News
19 October 2010
TriQuint's auto-qualified 77GHz chipset powers Delphi radar system for motion sensing
RF front-end component maker and foundry services provider TriQuint Semiconductor Inc of Hillsboro, OR, USA says that it is now offering its 77GHz gallium arsenide chipset portfolio for motion detection and adaptive cruise control (ACC) applications.
The products are currently being used by Delphi Automotive in its multimode electronically scanning radar (ESR), which enables adaptive cruise control in multiple vehicles. The 77GHz chipset devices appeared first in 2010 model-year automobiles.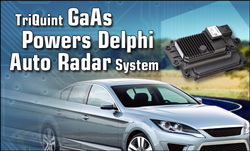 TriQuint's 77GHz portfolio includes eight products (TS-16949 factory certified) that can be used in a variety of design configurations for motion-sensing automotive and non-vehicular applications:
The TGA4705-FC flip-chip low-noise amplifier with 23dB small-signal gain and a 5dB noise figure at 77GHz (typical) for receive (Rx) chain architectures.
The TGA4706-FC flip-chip medium-power amplifier with 14dBm saturated output power with 15dB small-signal gain at 77GHz (typical).
The TGS4305-FC 60–90GHz SP3T switch, offering typical switching speed of <5ns and, when flipped, providing a nominal 2.3dB insertion loss, 13dB through state return loss, and 20dB isolation.
The TGS4306-FC 70–90GHz SP4T switch, offering a typical switching speed of <5ns and, when flipped, providing a nominal 3dB insertion loss, 8dB return loss in the through state, and 20dB isolation.
The TGV2204-FC flip-chip voltage-controlled oscillator (VCO) for frequency stability in transmit (Tx) chains, typically providing 7dBm output power at 19GHz with <–105dBc/Hz phase noise at 1MHz offset (with an integrated divide-by-8 prescaler easing PLL design).
The TGC4702-FC down-converting IQ mixer with 12dB conversion loss from 75–82GHz to an IF frequency band of DC–100MHz (typical).
The TGC4703-FC flip-chip frequency doubler combining an input/output buffer amplifier and a frequency doubler, providing 14dBm saturated output power with 8dB conversion gain (typical).
The TGC4704-FC flip-chip combined medium-power amplifier and frequency doubler, providing 14dBm saturated output power with 5dB conversion gain (typical).
In developing its system for Delphi, TriQuint combined time-tested, rugged GaAs designs used in defense applications with cost-conscious systems scaled for high-reliability consumer products. The firm also developed processes to further enhance performance and reliability, including its proprietary CuFlip 'flip-chip' technology, which replaces wire-bonded devices with direct mounts to circuit boards. CuFlip enhances reliability and ruggedness while simplifying overall assembly.
"We were looking for a chipset supplier with a track record of developing high-performance products that would help us succeed in the commercial marketplace," says Mark Lynn, Delphi Automotive's chief engineer, Active Safety. "TriQuint's experience with GaAs modules and their ongoing support has helped us to provide our customers game-changing driver-assist technology," he adds.
A multimode ESR with proven solid-state technology is the heart of adaptive cruise control systems like the one developed by Delphi. "Its class-leading performance, packaging and durability have helped enable a driver-assistance application that not only enhances safety and convenience, but is affordable to more buyers," says TriQuint VP Brian P. Balut.
"The microwave devices that Delphi has used in its ESR modules are now available for other motion-sensing applications that require market-tested, automotive-qualified performance," adds Balut. "The products are also cost-competitive for many different motion-based applications and concepts such as security systems."
TriQuint is attending the Society of Automobile Engineers' SAE Convergence 2010 conference & exhibition in Detroit, MI, USA this week (19–20 October).

Search: TriQuint Radar Motion sensing GaAs
Visit: www.triquint.com
Visit:
www.sae.org/events/convergence
For more: Latest issue of Semiconductor Today