News
21 October 2010
Ultrasonic Systems launches spray system for CdTe PV module making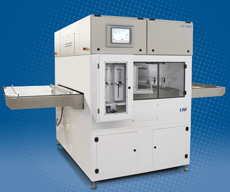 Ultrasonic spray coating equipment maker Ultrasonic Systems Inc (USI) of Haverhill, MA, USA has launched the PV-480 system for high-volume, precision coating of glass plates in cadmium telluride (CdTe) photovoltaic module manufacturing.
Picture: USI's PV-480 spray coating system.
The PV-480 leverages USI's proprietary, nozzle-less ultrasonic spray head technology for what is claimed to be thinner, more uniform coating deposition versus conventional spray technologies. Optimized for high-volume in-line manufacturing, the system can process glass plates up to 48 inches wide at speeds of up to six feet per minute.
The PV-480 delivers liquid coating with transfer efficiencies in excess of 90%, using a traversing Ultra-Spray blade head. The versatile system suits the application of cadmium chloride solution and anti-reflective coatings, as well as other low-viscosity liquids. It can be operated in-line or stand-alone, and is easy to control via a touch-screen user interface. USI says that its coating systems are industry proven, with more than 2500 installed worldwide in multiple markets.
"The PV-480 extends our unique nozzle-less spray head technology to glass plate applications critical to CdTe thin-film solar production," comments says president Stuart Erickson.

Search: CdTe PV modules
Visit: www.ultraspray.com
For more: Latest issue of Semiconductor Today