News
20 October 2010
Doubling of monthly sapphire wafer demand in 2010 sends 2" price over $30s
In November market research firm Yole Développement will make available 'Sapphire Substrate Market 2010 – Q4 Update', fully updating its 'Sapphire 2010 report' released at the beginning of the year, in response to the LED market's subsequent unprecedented growth driving monthly demand for finished sapphire substrates (for manufacturing blue and white gallium nitride-based LEDs) to almost double from 1 million two-inch equivalent (TIE) wafers in December 2009 to nearly 2 million in fourth-quarter 2010.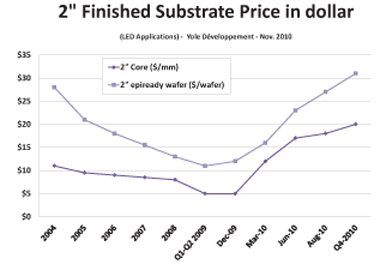 At the beginning of the year, most material makers were still cash strapped following the 2009 financial crisis and the strong price pressure experienced in the previous years, says Yole. As it typically takes 6–12 months to install and ramp up additional capacity, material supply was unable to follow demand. This triggered an acute shortage and a dramatic price rise. From being a commodity, sapphire became a strategic material that gave manufacturers the pricing power they've been lacking in recent years. The average selling price (ASP) for 2" wafers rose to $30 (above Yole's January forecast), and some customers are now paying cash in advance to avoid idle production lines.
Yole cites several factors that are now reshaping the industry:
South Korea's Sapphire Technologies Co Ltd now claims a capacity of 760,000 TIE per month, which is larger than Monocrystal Inc of Stavropol, Russia or Rubicon Technology Inc of Franklin Park, IL, USA. Historical market leaders Kyocera and Namiki of Japan seem slow to invest in additional capacity. Access to capital is critical. Tera Xtal Technology Corp went public on the Taiwan Stock Exchange in September, and Monocrystal expect to raise about $250m on the Moscow Interbank Currency Exchange in October. Sapphire Technologies should follow suit, and US-based Crystal Systems Inc was acquired by publically traded company GT Solar International Inc of Merrimack, NH, USA.
Newcomers are lining up with aggressive and often unrealistic plans, reckons Yole, which now counts more than 40 firms active in the sapphire substrate business. Also, many more are in stealth mode, trying to secure funding and procure equipment. However, Yole believes that many are under-estimating the technical challenge of growing large and high-quality sapphire crystals.
Rubicon and Monocrystal both announced plans for downstream integration and are increasing in-house wafer finishing capacities. This is enticing many finishing companies to develop in-house crystal growth or to secure alternative material sources through investment and partnerships with emerging material companies.
In addition, the sapphire crystal shortage is rippling through the raw materials supply chain and creating opportunities for crystal equipment manufacturers, says Yole.
For example, increased wafer demand is creating tensions on the raw materials market. The alumina specific density, form factors (pellets, microbeads or crackles) and high purity that are required for sapphire crystal growth is only available through a handful of companies. Raw material prices are therefore rising and some sapphire manufacturers are paying cash in advance to secure raw material capacity through 2011.
Meanwhile, crystal growth equipment makers are also benefitting from the urgent need for material capacity. More than 10 sapphire crystal growth equipment makers have been identified. Most of them, located in Ukraine and Russia, offer designs similar to the original 'Omega' machine developed in the USSR in the 1980s. Most offer turnkey solutions, allowing newcomers to quickly install and ramp up capacity. However, litigation has been reported between equipment makers and sapphire manufacturers, blaming each others for lower-than-expected yields or throughput. Equipment makers also face the risk of seeing their machine reverse-engineered, and orders dry up quickly as customers start manufacturing equipment themselves.
Yole says that the switch to larger-diameter sapphire also adds pressure to the material supply. More than 65% of the metal-organic chemical vapor deposition (MOCVD) reactors shipping in second-half 2010 are configured for 4" or larger wafers. In particular, Rubicon recently signed a $71m supply agreement with a Korean LED maker for 6" wafers. Yole therefore expects that in 2011, for the first time, 2" wafers will represent less than 50% of the total shipped sapphire substrate surface. This will create additional pressure on material supply as, for an equivalent surface, larger wafers are thicker than their 2" counterpart and command lower yields, notes Yole.
See related items:
Sapphire to exceed 50% of compound semiconductor substrate processed surface area from 2011
Sapphire faces shortage in second-half 2010, to be resolved in early 2011

Search: Sapphire substrates
Visit: www.i-micronews.com/reports
For more: Latest issue of Semiconductor Today