News
21 September 2010
Agilent expands optical receiver stress test to 850nm multimode transceivers
Agilent Technologies Inc of Santa Clara, CA, USA says that its complete optical receiver stress test solution has been expanded to test 850nm multimode transceivers.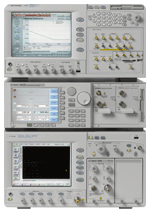 The N4917A optical receiver stress test set provides accurate and repeatable conformance and characterization test results, says the firm. With this solution, design and test engineers in the communications and storage industry can characterize and verify standard conformance of receive optical sub assemblies (ROSAs) and transceiver modules operating up to 14.2Gb/s.
Image: N4917 tower.
Agilent offers a complete optical receiver test solution for 10GbE-LR/-ER and 10G Fibre Channel. This solution is now extended to address testing of short-reach transceivers, such as 10GBASE-SR, 40GBASE-SR4 and 100GBASE-SR10.
Benefits of the extended Agilent N4917A optical receiver stress test set include:
accurate test results with calibrated injection of optical modulation amplitude (OMA), extinction ratio (ER) and vertical eye closure penalty (VECP);
reduction in programming and setup time by automating conformance and characterization tests -- now also for 10GBASE –SR/100 G BASE-SR10 in addition to existing 10GBASE - LR, -ER, and 10G Fibre Channel;
a choice of two reference transmitters: a new one for 850 nm multimode fibers, in addition to the existing one supporting 1310nm and 1550nm single mode fibers;
investment protection because the solution is based on existing Agilent instruments, such as the J-BERT and Infiniium DCA-J, which can be used for accurate characterization in other gigabit applications up to 28.4Gb/s.
"By extending the optical receiver stress test solution for 850nm multimode transceivers, we continue our commitment to helping R&D teams efficiently release the next generations of robust optical short-reach transceiver components," said Jürgen Beck, general manager of Agilent's Digital Photonic Test Division.
Agilent's optical receiver stress test solution consists of:
the N4917A calibration and automation software and stress conditioning unit with fiber optic cable kit;
the 81490A reference transmitter for 1310nm/1550nm single mode fibers and 850 nm multimode fibers;
accessory kits for single mode and multimode;
the J-BERT N4903A/B high-performance serial BERT;
the 86100C/D Infiniium DCA-J.
The N4917A optical receiver stress test software and the stress conditioning unit for 10GbE -SR is priced at $17,000. The new Agilent 81490A optical reference transmitter for 850nm multi mode is priced at $99,000.
Agilent will demonstrate the new optical test solutions at the 36th European Conference and Exhibition on Optical Communications (ECOC 2010) in Turin, Italy this week (20–22 September).

Search: Agilent Technologies
Visit: www.agilent.com/find/optical_stress
For more: Latest issue of Semiconductor Today