News
22 September 2010
Anadigics HELP3E dual-band PA chosen for Samsung's Intensity II and Gusto phones
Broadband wireless and wireline communications component maker Anadigics Inc of Warren, NJ, USA says that its HELP3E dual-band AWC6323 power amplifier (PA) — which supports the Cell (824–849MHz) and PCS (1850–1910MHz) bands — is being implemented in Samsung's Intensity II and Gusto mobile phones.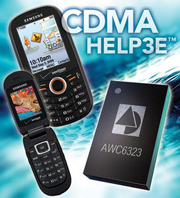 Manufactured using indium gallium phosphide (InGaP) BiFET technology, the AWC6323 is the first product in Anadigics' portfolio of High-Efficiency-at-Low-Power (HELP) dual-band CDMA PAs in a 3mm x 5mm x 1mm footprint. It features what is claimed to be the industry's lowest quiescent current for a CDMA power amplifier (3.5mA), directly helping to increase handset talk-time performance without the need for a DC-DC converter.
The AWC6323 offers three mode states to achieve high power-added efficiencies at several power levels during phone operation. Built-in directional couplers for each band with a common coupler port help to eliminate the surface-mount couplers placed on the phone board.
The device also meets the stringent linearity requirements of CDMA EV-DO Revisions A and B modulations to offer very high data rates for smart phones and data cards.
Samsung's Intensity II and Gusto handsets, offered by Verizon (the largest wireless network in North America), are among its most popular mobile phones in terms of value and reliability. The slim Intensity II phone is suited to high-speed social networking with a slide-out full QWERTY keyboard that enables users to quickly connect with others via text or picture message. The Gusto flip phone features crisp display and noise suppression technology along with robust text, picture and instant messaging capabilities.
Previously, on 8 September, Anadigics also said that its AWT6264 power amplifier is driving WiMAX connectivity in Samsung's new Epic 4G smartphone.

Search: Anadigics PA InGaP BiFET
Visit: www.samsung.com/us
Visit: www.anadigics.com
For more: Latest issue of Semiconductor Today