News
3 September 2010
E-Band launches 2.5Gbps backhaul solution for carrier LTE and 3G/4G networks
E-Band Communications Corp of San Diego, CA, USA, which makes high-capacity point-to-point Gigabit Ethernet wireless transmission systems for carrier, enterprise and government networks, says that what is claimed to be the first commercially available millimeter-wave radio solution operating at 2.5Gbps over the air has completed field testing and is now available worldwide.
The E-Link 2500 is part of the new 4G Evolution Series of products optimized for LTE and 3G/4G carrier networks, which currently consists of 70/80GHz multi-gigabit-capacity products, featuring solutions for carriers that need to enhance backhaul infrastructure and transition their existing networks to carry data-centric 4G traffic.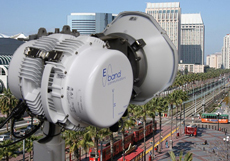 The latest addition to the series represents an expanded line of 70/80GHz solutions (both indoor–outdoor and complete outdoor solutions) capable of up to 2.5Gbps, with what is claimed to be the industry's highest link budget (due to E-Band's exclusive monolithic microwave integrated circuit technology), monitored hot standby (MHSB) and 1+1 configurations, and a new patent-pending innovation to make installation easier, faster and less costly for carriers, distributors and installers.
"The E-Link 2500 was very well received by our customers and is already being deployed in carrier networks to transmit commercial 4G backhaul traffic," says co-founder & senior VP Saul Umbrasas. Already, last year, E-Band achieved the number-one market share position for 70/80GHz point-to-point radios. "Development of the E-Link 2500 solution was driven by carriers that requested E-Band to provide more capacity for their backhaul transport rings," he Umbrasas.
"This solution, and forthcoming product announcements as part of our new 4G Evolution Series, will enable our customers to extend fiber-type capacity in urban areas where devices such as smartphones are placing tremendous demands on networks," he concludes.
See related items:
E-Band delivers 80GHz Gigabit Ethernet wireless backhaul for Clearwire's 4G network

Search: E-Band Communications
Visit: www.e-band.com
For more ethernet wireless news: Latest issue of Semiconductor Today