News
16 September 2010
Silicon photonics firm Kotura signs pan-European distribution agreement with AMS
Kotura Inc of Monterey Park, CA, USA, which has been designing and manufacturing application-specific silicon photonics components for the communications, computing, sensing and detection markets for more than four years, has signed a pan-European agreement with AMS Technologies of Martinsried, Germany, a distributor specializing in optoelectronics, thermal management and power electronics.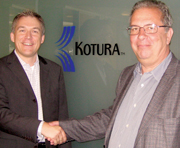 AMS will distribute Kotura's entire suite of integrated silicon photonic solutions including high-speed, single-channel variable optical attenuators (VOAs), high-speed VOA arrays, and WDM multiplexers for 40 and 100Gb/s Ethernet applications.
Picture: AMS' chief sales officer Jan Meise (left) and Kotura's president & CEO Jean Louis Malinge (right).
"The broad and value-rich optical functionalities offered by Kotura fit into our strategy to provide total solutions across our industry segments," says AMS' chief sales officer Jan Meise.
"AMS Technologies has a large customer base in Europe and an excellent reputation for its high-quality technical support, which is fundamental to our global expansion strategy," comments Kotura's president & CEO Jean Louis Malinge. "We look forward to working closely with AMS Technologies in Europe not only to drive success in increasing our combined businesses, but also to establish new customers and a deeper level of collaboration with them on current and future designs," he adds. "AMS Technologies will tremendously strengthen our position in these growing markets."
Kotura's products will be exhibited at AMS Technologies' booth at the 36 th European Conference and Exhibition on Optical Communications (ECOC 2010) in Torino, Italy next week (20-22 September).
See related items:
First WDM-compatible silicon photonics detector operating at 32GHz

Search: Kotura Silicon photonics
Visit: www.kotura.com
Visit:
www.amstechnologies.com
For more: Latest issue of Semiconductor Today