News
30 September 2010
Luminus PhlatLight LEDs light up Crowded House
Luminus Devices Inc of Billerica, MA, USA, which designs and makes high-output solid-state light sources for illumination applications, says that its CBT-90 white PhlatLight LEDs are being used inside Martin Professional's new MAC 350 Entour lighting fixtures, which are lighting the stage for 1980s rock band Crowded House on it's world tour.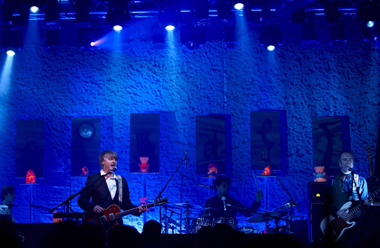 Picture: PhlatLight LEDs inside the MAC Entour 350 from Martin light the stage at a Crowded House concert. Image courtesy of Allan Toft / Martin Professional.
According to Luminus, the MAC 350 Entour is the entertainment lighting industry's first LED alternative to traditional high intensity discharge (HID)-based profile fixtures. It exceeds traditional 300W fixtures in brightness and is equipped with seven CBT-90 white PhlatLight LEDs. Total light output is 8,000 lumens, while lifespan is more than 25,000 hours (compared with traditional HID lamps that have a life span of only 3,000 hours).
"The MAC 350 Entour is a powerful and bright lighting fixture with the industry's only big-chip LED architecture. Combine that with its energy-efficiency and the industry has an affordable and long-lasting alternative to HID-based fixtures still in wide use in touring and entertainment environments," said Peter Skytte, product manager, Martin.
"Energy-efficient, long-lasting PhlatLight LEDs enable Martin to develop lighting fixtures that last a lifetime at a lower cost and are much brighter than traditional solutions currently available," said Don McDaniel, director, global entertainment, Luminus Devices. "There is no other solution similar to PhlatLight LEDs and we're looking forward to broadening the availability of our technology in the entertainment industry amongst many others."

Search: Luminus Devices LEDs
Visit: www.luminus.com
For more: Latest issue of Semiconductor Today