News
15 September 2010
Indian nanoelectronics center places multi-system order with Oxford Instruments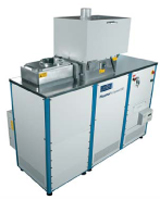 UK-based equipment maker Oxford Instruments Plasma Technology (OIPT) has received an order from the Centre of Excellence in Nanoelectronics (CEN) at the Indian Institute of Science (IISc) in Bangalore, India for three System100 plasma etch and deposition tools (two PlasmaPro System100 ICP Cobra etch tools and one PlasmaPro System100 PECVD tool), to be sited in the new cleanroom of CEN's nanofabrication facility.
Picture: PlasmaPro System100 ICP Cobra etch tool.
OIPT says that the System100's load-locked wafer entry allows fast wafer exchange, a wide range of process gases and an extended process temperature range. Allowing process flexibility for compound semiconductor, optoelectronics, photonics, MEMS and microfluidics applications, the PlasmaPro System100 plasma etcher and deposition tool can have many configurations, including the ICP and PECVD options ordered by IISc.
The two ICP-RIE (reactive-ion etch) systems and the PECVD (plasma-enhanced chemical vapour deposition) system have been configured for the widest range of processes required at CEN, IISc, which is a multi-user national facility. The etch chemistries include the capability to etch poly-silicon, silicon oxide, silicon nitride and a variety of metals. In addition to the silicon processing, the tools are also configured for gallium arsenide (GaAs) and gallium nitride (GaN) process capability for high-speed, high-frequency power transistors. The PECVD system enables stress-engineered nitride for MEMS sensors, low-temperature oxide and very thick poly-silicon membrane as a structural material for inertial sensors.
"We chose to order Oxford Instruments' systems for their superior process uniformity, and the high level of support offered by the company," comments professor Navakanta Bhat of IISc's Department of Electrical Communication Engineering. "We were particularly impressed by the technical capabilities of the staff and their willingness to work with their customers."
The new nanofabrication facility will be unique in the country, with a cleanroom covering 14,000 square feet in a new building (of 90,000 square feet) for the Centre for Nano Science and Engineering (CeNSE). The cleanroom will house tools catering to the diverse needs of the researchers. "The Oxford Instruments' systems offer the breadth of processes and leading-edge technology we need," says Bhat. " Oxford Instruments' systems will enable IISc to carry out frontier research in a number of areas, including nanoscale electronics and MEMS and help achieve our aim of creating technologies that can be commercially exploited by industry," he adds.
"This second order in a year from an important Indian Research Institute results from our ability to meet our customers' needs through advanced technology and service," says OIPT's sales & customer support director Mark Vosloo.
See related item:
OIPT launches the PlasmaPro NGP80, the first in a new range of etch, deposition and growth systems
See: Oxford Instruments Company Profile

Search: OIPT Indian Institute of Science System100 Etch PECVD GaAs GaN
Visit: www.oxford-instruments.com
Visit: www.nano.iisc.ernet.in
For more on OIPT: Latest issue of Semiconductor Today