News
21 September 2010
Osram's 660nm deep-red Golden DRAGON Plus and OSLON SSL LEDs provide 37% efficiency for plant growth pilot project
In cooperation with Fionia Lighting A/S in Denmark, a pilot project covering several thousand square meters of planting area in a commercial greenhouse has achieved energy savings of 40% using Golden DRAGON Plus and OSLON SSL LEDs from Osram Opto Semiconductors GmbH of Regensburg, Germany which, with efficiency of 37%, are among the most efficient light sources on the market in the deep red spectrum (660nm wavelength), it is claimed.
For plants to grow well in greenhouses they need the right temperature and also the right light. Light in the deep red spectrum plays a key role in plant growth because the absorption of chlorophyll in this spectral range is very high. Osram says that both its Golden DRAGON Plus and OSLON SSL LEDs now provide this deep-red light with particularly high efficiency, with typical power of 330mW at an operating current of 400mA. The chips are based on the firm's thin-film technology and, with a life of 100,000 hours, they offer maintenance-free operation for many years.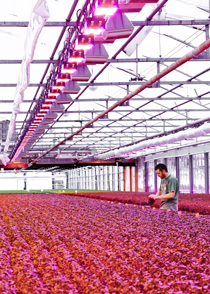 The Golden DRAGON Plus has a wide beam angle of 170° and can be used with good effect in reflector systems for illuminating large areas under cultivation. The OSLON SSL has a smaller footprint and a narrow beam angle of 80°, so they can be arranged close to one another. They can also be equipped with external optics. Osram says that their unique characteristics suit special applications such as 'multi-layer cultivation', in which salad plants are grown on stacked levels, and it is important for the lighting to be both compact and uniform.
The pilot project, in cooperation with Fionia Lighting and Osram distribution partner Arrow in Denmark, confirmed the energy-saving potential of LEDs in horticultural applications, says Osram. As part of the project, Fiona Lighting developed a luminaire system specifically for greenhouses that was equipped with a total of about 50,000 Golden DRAGON Plus LEDs. Over a cultivated area of several thousand square meters it was possible to reduce power consumption by 40%. "Flowers cultivated under LED lighting developed just as quickly as the control specimens under conventional lighting," says Fionia Lighting's Thomas Rubaek. "Also, the flowers cultivated under the LED lights had more buds, which attracted higher sales prices," he adds. "At the same time we were able to reduce the use of chemicals such as growth regulatores."
The colors red and blue are particularly important for plant growth. The emission curve of the new red LED is a good match for the spectral sensitivity of chlorophyll. Depending on the type of plant and the growth phase, the ratio of red and blue has to be individually adjusted between 10 and 30%. "If the emission curve of the light source is mapped against the spectral sensitivity curve of the plant (according to DIN 5031-10), the system luminous efficacy with LEDs is 60% higher than with the high-pressure sodium lamps currently used," explains Dr Christoph Gärditz of Osram Opto's SSL Business Development department. "The combination of deep red and blue LEDs offers impressive energy savings in this project as well."
See related items:
SDK's 660nm red LED chips adopted at Japan's plant growth facility
UV LEDs yield deeper-color antioxidant-rich plants
SDK launches record-output 660nm AlGaInP red LED chips for plant growth
Seoul Semiconductor supplies red and blue LEDs for agricultural lighting project
Visit: www.fionialighting.dk
Visit: www.osram-os.com
For more on Osram: Latest issue of Semiconductor Today