News
23 September 2010
ORNL's ZEBRAlliance test-house project opened, using Seoul Semiconductor LEDs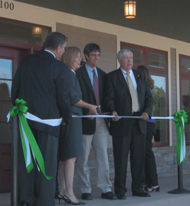 With the official opening on Monday 20 September of the project 'Zero Energy Building Research Alliance' (ZEBRAlliance) at the Wolf Creek Subdivision of Oak Ridge National Laboratories (ORNL), South Korean LED maker Seoul Semiconductor says that it has demonstrated how LEDs can help to illuminate and define a home's living area using a fraction of the energy consumed by traditional incandescent and compact fluorescent light (CFL) bulbs.
Picture: Ribbon-cutting outside Acriche-outfitted ZEBRAlliance House in Oak Ridge.
ZEBRAlliance is a collaborative public–private effort between Schaad LLC, the Tennessee Valley Authority, the US Department of Energy and ORNL to field-test two pairs of energy-saving residences. It aims to demonstrate energy conservation efforts that can reduce the load on the existing electrical grid and curb dependence on non-renewable energy sources. Energy use, lighting quality and maintenance requirements will be monitored for two years. Data from the house outfitted with Seoul Semiconductor's Acriche LEDs will be compared against that of a house using CFLs. The results should help buildings, lighting designers and homeowners make energy-saving lighting decisions, says Seoul Semiconductor.
Seoul Semiconductor says that its unique Acriche LEDs are featured in solid-state lighting installed throughout one of the energy-saving homes at the ZEBRAlliance project, and were chosen because they do not use electronics to convert AC line voltage into DC (as do most other solid-state lighting devices). The result is a more energy- and cost-efficient lighting product, the firm claims. It adds that the Acriche's performance will continuously evolve to double its lumen output by the end of this year. The firm plans to extend its LED lighting solution in the market using data from what it is calling 'Acriche House'.
"The ZEBRAlliance project marks the beginning of a new era in home lighting," reckons Brian Wilcox, Seoul Semiconductor's VP of North American sales. "The US Congress has mandated elimination of ordinary incandescent bulbs by 2014; Europe did the same last year, banning the sale of incandescent bulbs over 100W," he adds. "This market will grow substantially as consumers realize the benefits of brighter illumination combined with energy efficiencies."
See related items:
Seoul Semiconductor's LEDs used in ORNL's ZEBRAlliance test house

Search: Seoul Semiconductor LEDs
Visit: www.seoulsemicon.com
For more: Latest issue of Semiconductor Today