News
28 September 2010
Skyworks launches highly integrated switch matrices for DBS and CATV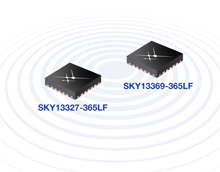 Skyworks Solutions Inc of Woburn, MA, USA, which manufactures linear products, power amplifiers, front-end modules and radio solutions for handset and infrastructure equipment, has launched several new complementary metal-oxide semiconductor (CMOS) switch matrix devices for the direct broadcast satellite (DBS) and cable TV markets. "These markets are expected to achieve double-digit growth every year through 2015," says David Stasey, VP of analog components.
Since DBS services allows households to receive TV programming directly from a satellite transponder via a low-noise block converter (LNB), across the satellite receiver industry low-noise block switches are increasingly enabling a single dish to view multiple satellites and allow hundreds of channels to be viewed per household. Skyworks' switch matrix solutions connect four of the satellite signals to two indoor set-top boxes selectable by the viewer's channel choice. Existing Skyworks' customers include BSkyB, DIRECTV, EchoStar and their design partners, along with a variety of emerging Chinese LNB original equipment manufacturers (OEMs) and original device manufacturers (ODMs).
The new devices eliminate the need for external components by integrating critical functionality directly on the CMOS die, providing significant cost savings and reduced printed circuit board (PCB) space requirements, the firm claims.
The SKY13327-365LF and the SKY13369-365LF are 0.25–2.15GHz 4mm x 2mm switch matrices that combine a digital decoder with the RF switching network, tone/voltage detect and digital satellite equipment control rejection (DiSEqC) functionality. The compact 20-pin quad flat no lead (QFN) packaged switches enable any of the four inputs to connect to either of the two outputs. Switch states can be selected using tone and voltage signals together with vertical–horizontal mirror control inputs.
"These newest additions to our CMOS switch family are just several solutions within Skyworks' broad portfolio designed to drive greater network reliability, capacity and efficiency while also reducing size and complexity," says Stasey.
Visit: www.skyworksinc.com
For more: Latest issue of Semiconductor Today