News
21 September 2010
TriQuint showcases integrated base-station modules enabling remote radio heads
At the 40th annual European Microwave Week (EuMW 2010) in Paris, France next week (28–30 September), RF component maker and foundry services provider TriQuint Semiconductor of Hillsboro, OR, USA will showcase its portfolio of integrated RF products for base transceiver station (BTS) radios, including launching its newest, fully integrated base station module, the TQM879006.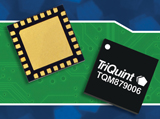 TriQuint says that its products reduce the size and complexity of RF circuitry by integrating multiple functions into modules, enabling migration to smaller, more 'green' remote radio head (RRH) base stations (a plan network operators are deploying to expand networks for 3G/4G smartphones and other mobile devices).
The firm says that its new base-station modules offer four levels of RF integration to reduce board space, lower bill of materials, and improve efficiency. Level 1 solutions include high-gain products that can replace one or more discrete components with a single module. At the highest level of integration, TriQuint's new Level 4 modules (such as the TQM879006) replace multiple discrete products with one module that incorporates two amplifiers, a digital step attenuator and all input/output matching circuitry.
"Global mobile networks are transitioning to base stations that use remote radio head designs," says TriQuint vice president Brian P. Balut. "TriQuint's newest products simplify RF connectivity in these systems... devices enable manufacturers to focus on competitive system performance instead of dedicating valuable resources toward RF component matching issues," he adds.
China's Huawei Networks touts the benefits of remote radio head designs in both trial and operational systems. In work with international mobile operator Vodaphone, it notes in the article 'Network Deployment; it's all in the mind' that the cost savings from increased efficiency in the links between the base station and the rest of the network are very significant. Remote radio head innovations are central to moving all key radio components closer to the antenna while reducing the size of radio housings; these advances reduce power consumption, both directly and through lower overall thermal mitigation requirements.
TriQuint says that base-station customers including Samsung Electronics have benefitted from the space-saving and cost-reduction benefits of integrated components. "These devices [the AH212 and AH420] have enabled us to develop high-power amplifiers for new LTE base-station systems," says Samsung Electronics' RF Core Lab senior engineer Jong-Hyun Lee.
"Our experience with TriQuint's products including the AH212, AH225 and the ML485 has been very good," says Chul Lee, Access R&D senior engineer for Korean base-station repeater manufacturer SK-Telesys about using TriQuint components in the firm's WCDMA and CDMA systems. "These devices enabled us to develop new repeater systems," he adds. "Engineering and product support from TriQuint have been important for us in meeting customer deadlines and requirements."
TriQuint says that its products are used by major OEM base-station radio manufacturers across Europe, Asia and North America in WCDMA, CDMA, MC-GSM and LTE networks. The firm offers integrated pre-driver and driver RFIC base-station solutions designed to improve efficiency, reduce the PCB area dedicated to RF, and reduce RRH bill of materials. Its base-station portfolio includes gain blocks, switches, mixers, low-noise and driver amplifiers, converters, SAW filters and integrated modules.
The levels of integration in TriQuint's pre-driver and driver integrated products are categorized as follows:
Level 1 — Devices that offer higher gain than discrete components and integrated matching, eliminating one or more components in base-station amplifier line-ups for size and overall cost savings (e.g. TQP3M9008, TQP3M9009);
Level 2 — Devices that integrate multiple functions in a package such as a multi-stage amplifier or mixer and an LO buffer amplifier for reduced system size (e.g. TQP8M9013, ML483, ML485);
Level 3 — Devices that combine two complete amplifier stages and interstage matching. These products eliminate the need for matching circuits between amplifiers while reducing costs and circuit size. Example: AH212, AH323;
Level 4 — Full integration at 50 Ohm input/output impedance, with multiple functions incorporated into a package, such as two amplifiers, a digital step attenuator, all bias chokes as well as bypass and blocking capacitors that yields a simpler, more compact solution for lower overall costs (e.g. TQM879006).

Search: TriQuint Base-station modules
Visit: www.triquint.com
For more on TriQuint: Latest issue of Semiconductor Today