24 April 2013
Challenged Veeco sees MOCVD orders fall 42% in Q1
Epitaxial deposition and process equipment maker Veeco Instruments Inc of Plainview, NY, USA has reported selected financial metrics and business highlights for first-quarter 2013 (excluding revenue and earnings, due to the firm's ongoing review of revenue recognition, announced last November).
Order bookings totalled $70m (down 24% on $92.3m for Q4/2012). This included: $37m from MOCVD (down 42% on $62.8m) and $6m from MBE (down 51% on $12.6m); hence LED and solar market orders together totaled $43m (down 43% on $75.4m). Data Storage orders totalled $27m (up 64% on $15.9m).
Other notable financial statements by the firm were that first-quarter system shipments had "declined sharply, on a sequential basis, in both MOCVD and data storage". Also, with few MOCVD deals available, Veeco continues to experience "significant competitive pricing pressure".
"First-quarter business conditions remained extremely challenging, with system shipments at very low levels and bookings the weakest we have seen since early 2009… this downturn has persisted longer than anyone predicted," says chairman & CEO John R. Peeler. "We are pleased that Veeco continues to weather this business downturn with our strong cash position," he adds. During the quarter, the unaudited cash balance rose by 1.6% from $579m to $588m.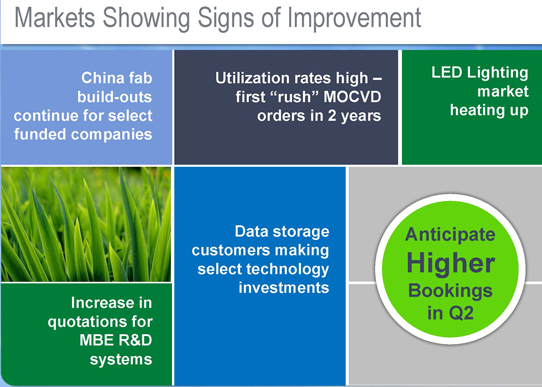 Picture: Market trends seen by Veeco.
"Looking ahead, the end-market signals in MOCVD activities are mixed but they appear to be trending in a positive direction. Some key LED customers are operating at close to full utilization rates, and we are now booking some rush purchase orders – the first we have seen in two years," says Peeler.
"In particular, some Chinese customers with committed funding for MOCVD equipment are planning fab expansions. In data storage, customers are making technology buys and we are seeing an increase in quotations for MBE systems for research applications. While visibility remains limited, we anticipate meaningfully higher bookings in the second quarter," Peeler adds.
Veeco also states that its "focus on service growth continues", with four key objectives: new service products; expanding Veeco-certified equipment across more product lines; designed-in services for new products; and, for MOCVD, post-warranty parts and services, local depots, consumables, performance upgrades (aiming to boost MOCVD services by about 70% between 2011 and 2013).
"It is a top priority to conclude our accounting review as soon as possible," Peeler noted. "Veeco's other key focus areas for 2013 are our plans to fortify and build on our leadership positions in our core markets, especially in LED lighting which we believe is a huge market opportunity in front of us, and to leverage our technologies into adjacent markets like power electronics, OLED, MEMS and EUV."
Analysts' conference
"Q1/2013 was another challenging quarter for Veeco," executive VP & chief financial officer David D. Glass told market analysts. "Bookings came in at just $70m, remaining at trough levels for MOCVD and MBE. Data storage was up versus Q4, but not enough to counter the very weak MOCVD trend. Bookings were at the lowest level we've seen since 2009," he added.
"We do expect to see a recovery in bookings during Q2. However, there are positive signs such as some of our top-end MOCVD customers operating close to full utilization, and in some case they're even talking about fab expansions," Glass continued.
"System shipments declined sharply in MOCVD and data storage, reflecting the weak overall environment we're still operating under. There are a few sizable MOCVD deals that were not shippable in Q1. Shipments continue to be lumpy because of issues such as fab readiness in China," Glass noted.
"Our advanced planning in areas like inventory and supply-chain management, cost containment and flexible manufacturing have all paid off for us. We have also completed a 10% reduction in workforce and significantly cut our operating expenses since peak level in 2011. We have installed strong inventory and working capital disciplines that have helped us to continue to fund R&D at high levels."
Commenting on the lack of announcement of full results for Q1, Glass added, "The accounting review concerns technical accounting issues related to multiple arrangements for MOCVD transactions originating in 2009 and 2010. This concerns some of our deals that include systems as well as upgrades, parts credits and other add-ins we might sell as part of our deals with the customers. These systems were delivered, accepted and paid for in full."
Peeler further commented to analysts: "We intend firstly to fortify and build our leadership position in our core markets, especially in LED lighting, which has a huge market opportunity and which also allows us to grow our services business. Second, we want to leverage our core technologies into adjacent markets like power, electronics, OLED, MEMS and EUV. Third, we want to acquire other businesses that have synergy with our business.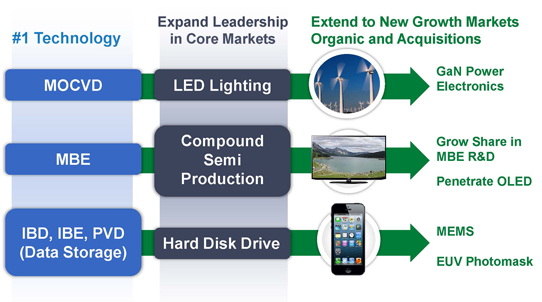 Graphic: Veeco's strategy for growth.
"Considering  MOCVD, services accounts for less than 15% of revenues at this point, but it's growing rapidly. Our customers are coming back to us for upgrades, consumables, parts that improve the performance of their systems and increase their profitability. If we achieve our internal goals, Veeco's 2013 MOCVD services revenue will be 70% higher than it was two years ago," Peeler added.
"In the MBE R&D market our share is well below the 75% share that we have in the production market, but that should change: we are launching a new R&D tool in the coming months and we expect to substantially increase our R&D market share."
Outlook
"Our first-quarter bookings levels were the worst we've seen since early 2009. But late in March we started to experience what looks like a meaningful inflection in MOCVD business conditions," commented Peeler on the firm's outlook. "It included reports that some customers are operating at close to full utilization rates. We had the first rush orders we've had in a long time and we are negotiating orders at several Chinese customers who have committed expansion plans," he added.
"Talking to customers worldwide, what I hear is that they all see lighting ramping; some are optimistic in moving to increase their capacity, while others are holding out and waiting before committing more capital. It's a tough market to predict at this point, but we do anticipate meaningfully higher bookings in Q2."
Visit: www.veeco.com
Author: Matthew Peach, Contributing Editor