4 December 2013
GaN-on-Si LEDs to grow at 69% CAGR from 1% market share in 2013 to 40% in 2020
The penetration of gallium nitride-on-silicon (GaN-on-Si) wafers into the light-emitting diode (LED) market is forecast to increase at a compound annual growth rate (CAGR) of 69% from 2013 to 2020, by which time they will account for 40% of all GaN LEDs manufactured, according to a new report from market research firm IHS Inc.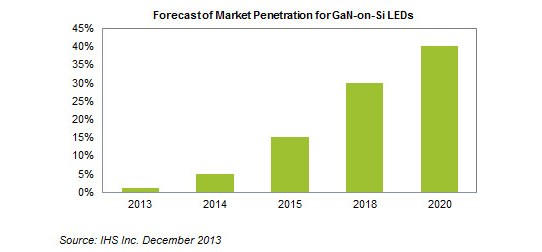 Picture: GaN-on-Si LED market share outlook in terms of revenue for packaged LEDs.
In 2013, 95% of GaN LEDs will be manufactured on sapphire wafers and only 1% on silicon wafers, the firm reckons. But growth in the manufacturing of GaN-on-Si LEDs between 2013 and 2020 will take market share from both sapphire and silicon carbide (SiC) wafers.
"Manufacturing large ingots made from sapphire is difficult, whereas silicon wafers are available from 8-inches up to 12-inches and are generally cheaper and more abundant," says Dkins Cho, senior analyst for lighting and LEDs at IHS. "There is a large pre-existing industry for silicon-based manufacturing that is leveraged to create economies of scale and reduce the cost of an LED," he adds.
Repurposing manufacturing facilities to accommodate the shift toward GaN-on-Si LEDs is generally accepted to require minimal investment, notes IHS. Companies that previously manufactured CMOS semiconductors already own legacy 8-inch CMOS fabrication units that can be converted for LED production with a small modification, the firm notes. These companies already have in-house expertise and technology associated with silicon-based processes.
"Many of the CMOS semiconductor manufacturers already have excellent inspection tools, unlike traditional LED companies," Cho says. "This could help increase their process yield through in-situ monitoring," he adds. "However, it is unlikely the repurposing will happen overnight; instead we forecast a shift during the coming years."
Tags: LED market GaN-on-Si
Visit: www.ihs.com