15 March 2013
Cree begins volume production of second generation SiC MOSFET
Cree Inc of Durham, NC, USA has released its second generation SiC MOSFET. According to the firm, the new 1200V MOSFETs deliver leading power density and switching efficiency at half the cost per amp of Cree's previous generation MOSFETs.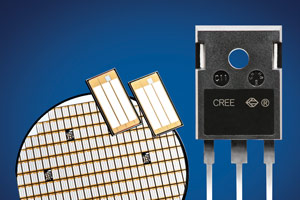 Picture: Cree's second generation SiC MOSFET.
"We have evaluated Cree's second generation SiC MOSFET in our advanced solar circuits," said Prof. Dr. Bruno Burger, Fraunhofer-Institute, Freiburg, Germany. "They have state-of-the-art efficiency and enable system operation at higher switching frequencies that result in smaller passive components, especially smaller inductors. This substantially improves the cost-performance trade-off in solar inverters in favor of smaller, lighter and more efficient systems."
The performance of these new SiC MOSFETs enables the reduction of required current rating by 50-70% in some high power applications, says Cree. For solar inverters and uninterruptible power supply (UPS) systems, the efficiency improvement is accompanied by size and weight reductions. In motor drive applications the power density can be more than doubled while increasing efficiency and providing up to twice the maximum torque of similarly rated silicon solutions. The product offering range has been extended to include a much larger 25 mOhm die aimed at the higher power module market for power levels above 30 kW. The 80 mOhm device is intended as a lower cost, higher performance upgrade to the first generation MOSFET.
"With our new MOSFET platform, we already have design wins in multiple segments," said Cengiz Balkas, vice president and general manager, Cree Power and RF. "Due to the rapid acceptance of this second generation of SiC MOSFETs, we are shipping pre-production volumes to several customers ahead of schedule and we are ramping volume production in-line with customer demand."
Die are available with ratings of 25 mOhms, intended as a 50 Amp building block for high power modules, and 80 mOhm. The 80 mOhm MOSFET in a TO-247 package is intended as a higher performance, lower cost replacement for Cree's first-generation CMF20120D.
Tags: Cree SiC SiC MOSFET
Visit: www.cree.com/power