11 April 2014
Ascent Solar announces availability of EnerPlex Jumpr Slate 10,000mAh portable battery
Ascent Solar Technologies Inc of Thornton, CO, USA, which makes lightweight, flexible copper indium gallium diselenide (CIGS) thin-film photovoltaic modules that it integrates into its EnerPlex series of consumer products, has announced availability of its EnerPlex Jumpr Slate at company-owned kiosks, as well as online. The product will be available at partner retailers both domestically and internationally later in April.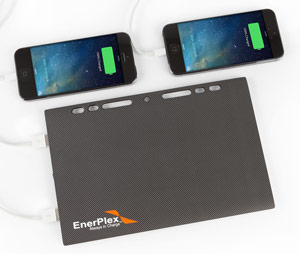 Picture: Jumpr Slate 10k, with dual 2.4amp USB outputs.
At less than 7mm thick, the EnerPlex Jumpr Slate is claimed to be the thinnest large-format power bank available on the market. Also, with a capacity of 10,000mAh, it can re-charge smartphones such as the iPhone 5 up to 5 times, freeing consumers from being tethered to the outlet. Equipped with dual 2.4 Amp outputs, the Jumpr Slate can simultaneously charge tablets and e-readers, such as the iPad.
"The Jumpr Slate 10k exemplifies the ingenuity and creativeness of the EnerPlex brand; the Slate's combination of power, thinness and weight provides a truly unique product proposition for those consumers who do not want to be burdened by thick and heavy traditional power banks," says Justin R. Jacobs, Ascent's manager of brand development.
Tags: Ascent Solar EnerPlex CIGS
Visit: http://enerplex.biz/shop/jumpr-slate-10k
Visit: www.goenerplex.com
Visit: www.AscentSolar.com