11 April 2014
Marktech launches multichip emitters and LEDs
Marktech Optoelectronics of Latham, NY, USA, whose capabilities span wafer growth through finished packaging and custom solutions, has introduced its new line of multichip LEDs.
As electronic products continue to evolve technologically and the push for miniaturization continues, space constraints for electronics continue to be a concern for design engineers. Marktech has long specialized in chip-on-board (COB) solutions, where multiple LED die can be placed into a small space, offering advantages compared with standard packaging. In addition to using COB technology for illumination purposes, emission and detection functions of a sensor application can also be greatly enhanced. With the ability to pack more light emission or light detection chips into an area, performance of the circuit can greatly increase, says Marktech.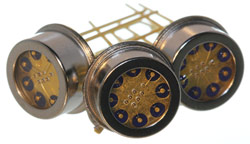 Picture: Marktech's multichip emitters and LEDs.
The multichip devices are supplied in a variety of packages, including TO-18, PLCC, TO-5 and surface mount. The devices hold anywhere from 2 to 7 die and are available in selected standard die (UV through SWIR short-wave infrared) or can be modified to a customer's specification (including power and wavelength sorting).
The standard multichip LED product is available through Digi-key.
Tags: Marktech Optoelectronics
Visit: www.marktechopto.com