10 April 2014
UK's PPE breaks ground on new O-ring manufacturing plant in USA
Precision Polymer Engineering Ltd (PPE) of Blackburn, UK, which manufactures elastomer O-rings, technical mouldings and sealing solutions, has held a ground-breaking ceremony to initiate construction of a new 30,000ft2 manufacturing facility in Brenham, TX, USA that should be in operation by October.
The new factory will specialize in manufacturing custom O-rings and other critical elastomer sealing components, and will have its own tool-making, extrusion and inspection facilities.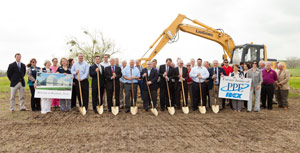 As well as compression molding of components for the oil & gas, food, drink & pharmaceutical and engine manufacturing industries, the capabilities will include cleanroom facilities that will enable production to the exacting standards needed for applications in semiconductor manufacturing equipment.
PPE says that, for critical applications such as in the semiconductor industry, its Perlast range has the chemical and plasma resistance needed to assure the required performance and process cleanliness.
"At PPE we strive to develop the most advanced materials for the most difficult applications. But on top of that, we operate our manufacturing so that we can be extraordinarily responsive to customers' needs," says managing director Paul Gillyon. "We believe we have the fastest lead times and our customers tell us that our on-time delivery record is outstanding," he adds. "We will reproduce all of these attributes in our Texas operation."
Tags: PPE
Visit: www.prepol.com