4 April 2014
SemiTEq launches new generation of PVD & PECVD systems for R&D
SemiTEq of Saint-Petersburg, Russia, which designs and manufactures high-vacuum and ultra-high-vacuum (UHV) equipment including molecular beam epitaxy (MBE) deposition systems, has launched a new generation of physical vapor deposition (PVD) and plasma-enhanced chemical vapor deposition (PECVD) systems intended for intensive R&D as well as small-scale production for wafers up to 8" in diameter.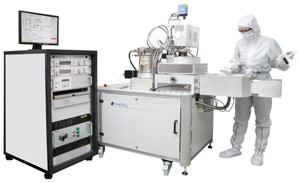 Picture: SemiTEq's STE ICP platform.
The systems are based on the versatile STE ICP platform for inductively coupled plasma etching (STE ICP200E) and PECVD (STE ICP200D). The platform has an aluminium process chamber and a new design of load-lock chamber, specially configured for installation through the cleanroom wall. Also, the work table design provides efficient helium cooling for long etching processes as well as precision heating with thermal stabilization for PECVD. The software allows flexible programming of the etching or deposition process.
Visit: http://semiteq.org