15 August 2014
API launches high-reliability customizable 2-20GHz broadband amplifier
API Technologies Corp of Orlando, FL, USA, a designer and manufacturer of systems, subsystems, modules and components for RF, microwave, millimeter-wave, electromagnetic, power and security applications, has added the model BXHF1084 multi-octave broadband amplifier to its growing family of standard and configurable RF/microwave products. With its high-frequency capabilities and what is reckoned to be one of the industry's smallest footprints, the amplifier offers OEMs competitive advantage and faster time to market, it is claimed.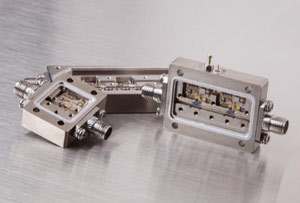 Picture: API's Model BXHF1084 2-20GHz broadband amplifier.
Providing S-, C-, X- and Ku-band operation in a single amplifier module, the BXHF1084's compact size, laser-welded housing and high-gain design (26dB typical) make it suitable for commercial and military applications including VSAT, SATCON, point-to-point, multi-point, radar, and communications.
The broadband amplifier has an internal voltage regulator (allowing use with a wide range of available power supplies) and a small form factor (minimizing volume, allowing improved design flexibility in next-level assembly). Additionally, the amplifier offers a single positive bias, eliminating the need for negative rail or special power-up sequencing.
The BXHF1084 is configurable without additional engineering charges. The product is RoHS-compliant and available worldwide.
"This new broadband amplifier fills an industry need for rugged, high-performance amplifiers designed specifically for high-frequency applications," says Walter Witt, API's product line manager, RF/Microwave & Microelectronics (RF2M US).
Tags: API Technologies
Visit: http://micro.apitech.com