29 August 2014
Cree launches TrueWhite LED replacement for halogen MR16 lamps
LED chip, lamp and lighting fixture maker Cree Inc of Durham, NC, USA has launched MR16 Series LED lamps with TrueWhite Technology, delivering the soft, diffused light of a traditional 50-watt halogen MR16 lamp and designed for global compatibility with virtually all existing sockets. With a suggested retail price of $25, the MR16 TrueWhite LED lamps consume up to 83% less energy, it is reckoned, and are designed to meet ENERGY STAR qualification to deliver a rapid payback of less than one year (compared with a 50-watt halogen MR16 lamp and based on usage of 12 hours per day and the national average of $0.13 per kWh electric costs).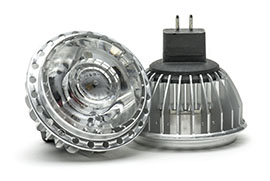 Picture: Cree's MR16 Series TrueWhite LED lamps.
Featuring a design that delivers output of more than 580 lumens in conjunction with a proprietary lens, the MR16 Series TrueWhite LED lamps eliminate the glare commonly associated with 50-watt halogen MR16 lamps to deliver a soft, diffused light with what is claimed to be a category-leading color rendering index (CRI) of 92. The lamps are dimmable and available in 15-degree spot, 25-degree flood and 40-degree wide flood beam angles in a 1.97-inch, ANSI-compliant form factor, allowing them to easily fit into existing tracks for a one-for-one replacement, says Cree.
The MR16 Series TrueWhite LED lamp is available via distributors throughout the USA and Canada.
Tags: Cree LEDs MR16 lamp replacements
Visit: www.cree.com/lighting/MR16series