8 December 2014
Finisar sees first quarterly revenue drop in two years
For its fiscal second-quarter 2015 (ended 26 October 2014), fiber-optic communications component and subsystem maker Finisar Corp of Sunnyvale, CA, USA has reported revenue of $297m, up 2.2% on $290.7m a year ago but down 9.4% on $327.6m last quarter (its first decline in two years, and below the expected $305-320m).
| | | | | | |
| --- | --- | --- | --- | --- | --- |
| Fiscal | Q2/2014 | Q3/2014 | Q4/2014 | Q1/2015 | Q2/2015 |
| Revenue | $290.7m | $294m | $306m | $327.6m | $297m |
Finisar had one greater-than-10% customer (Cisco). The top 10 customers represented 55.8% of total revenue, down from 57.7% last quarter.
Although up 5.7% on $204.3m a year ago, datacom product revenue of $215.9m was down by 10.5% on $241.2m last quarter, due primarily to a larger-than-expected decrease in sales of transceivers for wireless applications and a decrease in orders from several datacom customers with lumpy order patterns.
Telecom product revenue is down by 6.2% on both $86.5m a year ago and $86.4m last quarter to $81.1m, due primarily to the decrease in demand for transceivers for telecom applications driven by sluggish carrier capital expenditures.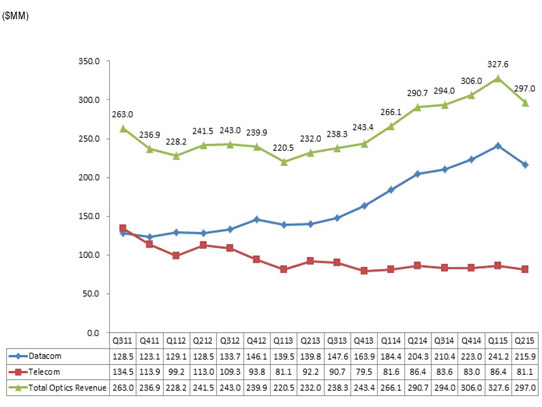 Picture: Finisar's quarterly revenue trends.
On a non-GAAP basis, gross margin has fallen further, from 37.1% a year ago and 32% last quarter to 31.1%, due mainly to the reduced revenue plus a further increase in depreciation of $1.3m.
Although up on $63.2m a year ago, operating expenses have fallen by $2.1m from $69.4m last quarter to $67.3m (rather than the expected $1m rise), due mainly to lower legal costs (since an outstanding patent litigation case was resolved during the quarter). R&D spending was about $45m, down slightly from last quarter.
Operating income has fallen further, from $44.8m (operating margin of 15.4% of revenue) a year ago and $35.4m (10.8% of revenue) last quarter to $25m (8.4% of revenue, below the expected 8.5-9.5%), due mainly to the lower revenue and gross margin.
Net income has fallen further, from $43.8m ($0.43 per diluted share) a year ago and $33.3m ($0.32 per diluted share) last quarter to $23.5m ($0.23 per diluted share, at the bottom of the forecasted range of $0.23-0.27).
Compared with $512m at the end of fiscal Q4/2014, cash, cash equivalents and short-term investments have fallen further during fiscal Q2, by $20m from $497.4m at the end of fiscal Q1 to $477.4m. This is due mainly to increased inventory of $14.7m, legal settlement-related expenses of $13.7m, and capital expenditure of $28.4m (less than the forecasted $45m, due mainly to a delay of about one quarter in completing the second building of the new factory in Wuxi, China, plus the delay of planned capital expenditure due to lower-than-expected revenue).
For fiscal third-quarter 2015, Finisar expects revenue to grow to $297-312m, driven by demand for 40G and 100G datacom transceivers for Ethernet, as well as transceivers for wireless applications (offsetting telecom revenue flat to slightly down, given the one month of the telecom price erosion). Gross margin should be steady at 31%, as revenue growth is offset by the impact of 1 month of the annual telecom price reductions that typically take effect on 1 January. Operating expenses are expected to be roughly flat on fiscal Q2 (except for a potential increase in sales & marketing due to the higher revenue). Operating margin should be flat to up, at 8.4-9.4%, and likewise for earnings per diluted share at $0.23-0.27. Capital expenditure is expected to be about $40m, driven by continued construction of the second building of the Wuxi, factory.
"We now expect the second building to be completed by March 2015 and we expect to have all volume manufacturing moved from Shanghai to Wuxi and re-qualify with customers by October 2015," says chief financial officer Kurt Adzema. "We will continue to perform R&D and NPI [new product introduction] manufacturing in Shanghai, as well as some corporate functions at that site," he adds.
"We are pleased with our new product development efforts in devices, ICs and modules and our ability to ramp those new products into production volumes at our manufacturing sites," says CEO Eitan Gertel. "At ECOC in September we demonstrated our next-generation ROADM technology, including our low-profile dual 1x20 wavelength-selective switch [WSS] and a new high-resolution optical channel monitor," he notes. Finisar also demonstrated a 100 gigabit QSFP28 active optical cable (AOC), the first of several new products in the QSFP28 form factor. "We continue to make excellent progress on our development of our 100 gigabit CFP2 coherent module," continues Gertel. Industry analysts forecast 100G coherent transceiver markets to be about $400m in calendar year 2016. "We expect our overall product development to be maintained at similar level as Q2, so that our R&D investments will be about $46m for our third quarter," he adds.
"Finisar's revenue is driven primarily by the growth in worldwide demand for bandwidth, the ever increasing distribution and use of video, and other digital information," says executive chairman Jerry Rawls. "In addition, Finisar continues to benefit from the growth in cloud services, which drives network hardware upgrades of existing data centers and the build out of new hyper-scale data centers. These large data centers need more high-speed optical connections," he adds. "Over time, we believe data centers and carriers will spend more money on optics to meet their needs for increased bandwidth… Finisar is uniquely positioned with our broad product line, extensive customer engagements, profitable vertically integrated business model and strong balance sheet to capitalize on these market opportunities," he believes.
Finisar's September quarter to see first revenue decline in two years
Finisar reports 7th quarter of revenue growth to record $306m
Finisar reports sixth quarter of revenue growth to record $294m
Finisar reports fifth quarter of revenue growth to record $290.7m
Finisar opens production plant in Wuxi, China
Tags: Finisar
Visit: www.finisar.com