10 December 2014
First Solar enters residential market with strategic investment in Clean Energy Collective
First Solar Inc of Tempe, AZ, USA, which makes thin-film photovoltaic modules based on cadmium telluride (CdTe) as well as providing engineering, procurement & construction (EPC) services, has formed a strategic partnership with Clean Energy Collective LLC (CEC) to develop and market community solar offerings to residential customers and businesses directly on behalf of client utilities. The two firms will jointly pursue opportunities in the community solar market to offer an affordable and convenient alternative to rooftop generation.
CEC claims to have pioneered the model of delivering clean power generation through large-scale solar PV facilities accessible to all utility customers. Since establishing the first community-owned solar garden in the USA in 2010 near El Jebel, CO, CEC has built or has under development more than 40 community solar projects with 18 utility partners across eight states, representing 36MW of community solar capacity.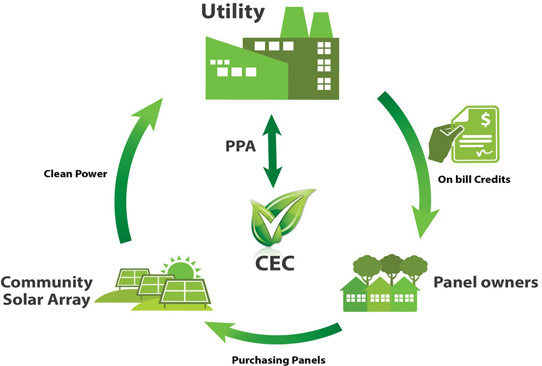 As part of the deal, First Solar has made a strategic investment in CEC and obtained an equity interest, and First Solar's CEO Jim Hughes and VP of strategic marketing Marc van Gerven will join CEC's board.
The move is an integral part of First Solar's distributed generation strategy, strengthening its entry as a solutions provider in the residential and business solar markets. As the USA's leading community solar provider, CEC pioneered the community solar model, through which a broad range of customers have access to solar energy regardless of the suitability of their rooftop or property ownership status. Through the new relationship, CEC will accelerate the rollout of community solar generation aided by the efficient access to capital and hardware solutions afforded by First Solar.
"Distributed generation in the form of community solar expands the addressable market dramatically beyond the traditional residential or commercial sectors, and CEC has led the way in making that happen," comments First Solar's CEO Jim Hughes. "This deal is a natural fit that leverages CEC's residential experience on the ground with First Solar's expertise in utility-scale generation and panel technology. This innovative and cost-competitive approach will further establish solar, and specifically community solar, as a critical part of the global energy mix for all markets," he adds.
"Community solar is affecting a major shift in the broader solar industry," claims CEC's founder & CEO Paul Spencer. "Joining forces with First Solar further validates community solar and provides us the opportunity jointly to accelerate this shift with the combined power of our proven model and the economics and efficiency of First Solar as a world-class R&D, manufacturing and construction partner," he adds. "This collaboration will allow us to accelerate our expansion to new markets and customers, and will provide both customers and our utility partners with the added confidence that CEC and our community solar projects will deliver long-term, scalable energy solutions at the most cost-effective pricing," he reckons.
Community solar utilizes sizable ground-mounted installations that provide energy to a utility's grid, and allows consumers the ability to buy into a specific community installation and directly benefit from the solar power generated by that resource. This aims to allow any power consumer to 'go solar', including those who live in multi-tenant buildings, rent, or whose rooftops cannot accommodate solar panels. Community solar can hence expand the addressable market beyond solutions limited to rooftop only, especially in urban residential settings.
Tags: First Solar Thin-film photovoltaic CdTe
Visit: www.firstsolar.com
Visit: www.easycleanenergy.com