13 February 2014
Edwards launches large-capacity turbo pump with improved gas flow capability and high-temperature management
Vacuum and exhaust-abatement equipment maker Edwards Ltd of Crawley, UK has launched the STP-iXA4506 large-capacity turbomolecular pump (TMP), designed to deliver significant savings for cost-sensitive manufacturers of semiconductors, flat-panel displays, LEDs and solar panels.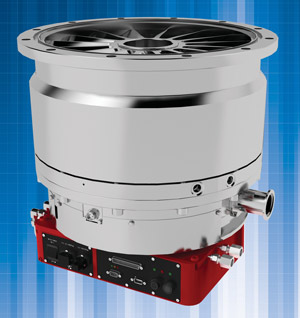 "The new STP-iXA4506 turbo pump is the all-in-one solution with improved pumping performance," says TMP product marketing manager Shinichi Yoshino. "It pairs Edwards' latest rotor design with the well-established, highly reliable, on-board controller of the iXA series to maximize the allowable gas throughput and hence minimize the number of pumps required for high-flow processes, particularly in solar and flat panel applications," he adds. "The fully integrated controller eliminates the need and cost of cables and a separate controller rack, resulting in a compact package that is fast and easy to install in a variety of applications," he claims "Like all of our magnetically levitated turbo pumps, the absence of mechanical bearings practically eliminates the cost of periodic maintenance."
The pump's high speed (4300l/s N2) and throughput (up to 4300sccm N2), combined with its ability to efficiently pump both light and heavy gases, make the STP-iXA4506 suitable for a wide range of large-volume, high-flow applications, including semiconductor etch and solar phyiscal vapor deposition (PVD). Its tightly integrated design includes a completely sealed electronic module for robust, reliable operation in the most demanding factory environments, says Edwards. When needed, a thermal management system can be added to reduce the accumulation of deposits and particulates from process byproducts.
Tags: Edwards
Visit: www.edwardsvacuum.com