11 July 2014
ClassOne launches electroplating tool for smaller-substrate users
Wet-chemical equipment maker ClassOne Technology of Kalispell, MT, USA has launched its Solstice line of electroplating tools, designed specifically for the smaller-substrate users in emerging technologies such as MEMS, LEDs, power devices, RF communications, interposers, photonics and microfluidics. The price of Solstice is less than half of equivalent 300mm tools from the large manufacturers, the firm claims.
"The bigger equipment companies have focused on building ever-smaller devices on ever-larger substrates," says ClassOne's VP of technology Kevin Witt. "They've been serving the market segment that buys expensive high-end tools — but they've left the cost-conscious 100-200mm people behind. Up till now, the smaller-substrate users either had to buy used equipment or pay top dollar to get the big manufacturers to build them a 200mm-or-smaller plating tool," he adds.
"This is literally the first automated plating tool that can deliver advanced performance on smaller substrates at affordable prices," claims ClassOne's president Byron Exarcos.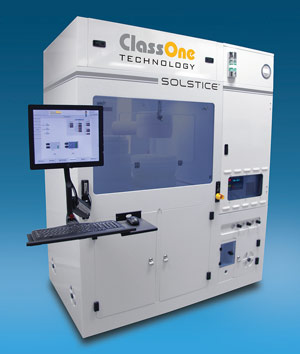 Picture: ClassOne Technology's Solstice LT semi-automated electroplating system.
The Solstice comes in two models. The fully automated cassette-to-cassette Solstice S8 provides up to eight process chambers for throughputs up to 75wph (wafers per hour), with system prices starting at $1m. The semi-automated Solstice LT features one or two chambers for development and pilot lines, with systems starting at $350,000. So, emerging technology users now have an affordable, scalable path from wet bench to volume production and higher return on investment (ROI), says the firm.
The plating equipment enables multiple types of metal deposition with chemical pre-wet, etch, rinse and drying processes, all on a single-wafer automated system — and all driven by the long-proven Solaris controller on a Windows 7 platform. The result is plating performance in a flexible, modern tool that's designed — and priced — for smaller users and emerging technologies, says the firm.
Formed in early 2013 as a sister company to refurbished process tool supplier ClassOne Equipment (which has over 2500 systems installed), ClassOne Technology's charter is to provide innovative systems to smaller-substrate users.
ClassOne launches spin rinse dryer systems with increased performance and lower cost
ClassOne Technology has also launched the Trident line of spin rinse dryer (SRD) tools, which aim to bring more advanced SRD performance to smaller and emerging-technology users while also reducing costs.
The Trident SRDs utilize Deluge technology to deliver a continuous and consistent cascade of rinse water — and eliminate the expense of spray-nozzle replacement. All systems provide full PLC control with color touch-screen displays as well as ultra-pure non-contact N2 heaters, full wrap-around bowl heaters, direct-drive brushless motors, negative-pressure motor seals and FM4910 compliance.
"Many of our customers are price conscious," says president Byron Exarcos. "They've been asking for a simple, robust SRD with state-of-the-art capabilities, but one that would fit their budgets," he adds. "Our new Trident SRDs are significantly lower in price than others on the market — and at the same time, they also raise the bar in SRD performance," he claims.
Trident SRD systems are available in four different configurations: bench-top, roll-around, single-stack and double-stack models. The tools can process batches of up to 50 substrates, in sizes from 75mm to 300mm.
Both the Trident SRD and Solstice plating systems were featured in the ClassOne Technology booth at SEMICON West 2014 in San Francisco (8-10 July).
ClassOne Equipment expands Wet Processing Division with new subsidiary
Tags: ClassOne
Visit: www.classone.com