2 July 2014
Epistar to jump from 11% to 15% of global GaN epi capacity after FOREPI merger
Following the announcement on 30 June that Epistar Corp (Taiwan's largest manufacturer of LED epiwafers and chips) is acquiring fellow Taiwanese LED epiwafer and chip maker Formosa Epitaxy Inc (FOREPI), Epistar will have over 400 metal-organic chemical vapor deposition (MOCVD) reactors including those from FOREPI's China subsidiaries — more than double the gallium nitride (GaN) MOCVD of its nearest competitor, according to a Research Note from IHS Technology.
As a result, Epistar will now take an even clearer lead as the number 1 GaN LED die and epiwafer supplier. Epistar's projected share of 11% of global wafer capacity in fourth-quarter 2014, added to FOREPI's 4%, will mean that the newly united group will account for 15% of total global capacity - an impressive number  in such a diverse market with so many players, comments the market research firm. Meanwhile at the packaged LED level, Nichia is the market leader, with 12.5% (as of first-quarter 2014).
Sanan, a shareholder in FOREPI, was previously projected by IHS to challenge Epistar for wafer capacity by the end of 2014. But Sanan will now have less than half of Epistar and FOREPI's combined share after the merger. Samsung, ranked third, is another top player for total wafer capacity.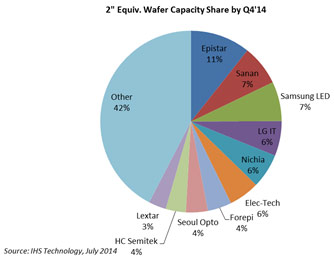 Picture: Projected share of GaN LED wafer capacity (2"-equivalent) for main players by Q4/2014.
The merger may come at a good time for Epistar, which also leads in yielded die and binned die, says IHS. Leading LED firms have long since recovered from 2011-2012 when capacity utilizations were very low, and Epistar and others have had stable, high-capacity utilizations for some time now. At the same time, the oversupply seen from 2011 to 2013 is projected to greatly reduce from 2014 to 2018 because of increased demand in lighting.
According to the latest issue of IHS Technology's 'Quarterly GaN LED Supply and Demand Market Tracker', wafer surplus is projected to fall from 27% in 2013 to 10% in 2014, and will be below 10% from 2015 to 2018, due mostly to the expansion of the lighting market as LED lamps and luminaires gain share at the expense of traditional technologies.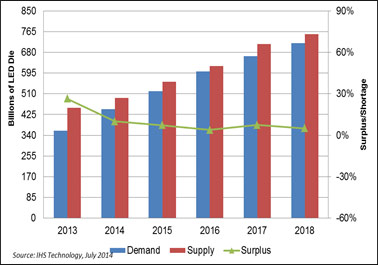 Picture: Surplus of supply over demand of LED die for 2013-2018.
Revenue from GaN packaged LEDs in lighting applications is projected to grow from $5.2bn in 2013 to $6bn in 2014 and then $6.8bn in 2015. Shipment growth is even stronger, with 2015 shipments forecast to be almost double those of 2013.
Overall, GaN MOCVD system installations are forecast to reach 257 reactors in 2014, with 830 reactors to be needed for the four combined years from 2015 to 2018 inclusive.
The top purchasers of MOCVD systems in 2014 are projected to be leading Chinese companies such as Sanan and HC Semitek. Both recently announced plans for 200 MOCVD reactors. Sanan stated it will invest RMB10bn (about US$1.6m) to purchase 200 reactors for its plant in Xiamen, while HC Semitek expects to reach 200 reactors by 2016. However, it should be noted that historically not all LED companies have ordered as many MOCVD reactors as they initially estimated.
The top 10 purchasers of MOCVD systems are expected to have 89% LED market share in 2014 as leading suppliers continue to grow strongly. In comparison, smaller companies and new entrants that joined the market in recent years have often failed to see growth in this competitive market, notes IHS.
Epistar to acquire Formosa Epitaxy to expand capacity
Visit: www.forepi.com.tw
Visit: www.epistar.com.tw
Visit: https://technology.ihs.com/Services/467369/