21 July 2014
GaAs bulk substrate market revenue shrank 8% in 2013
Despite strong growth in the gallium arsenide device market, GaAs bulk substrate manufacturers saw both production and revenues decline for the second consecutive year, according to the Strategy Analytics Advanced Semiconductor Applications (ASA) report 'Semi-Insulating GaAs Bulk Substrate Markets: 2013-2018', which forecasts that new mobile architectures, competing technologies and flattening GaAs device growth rates will result in further declines in the total available market (TAM).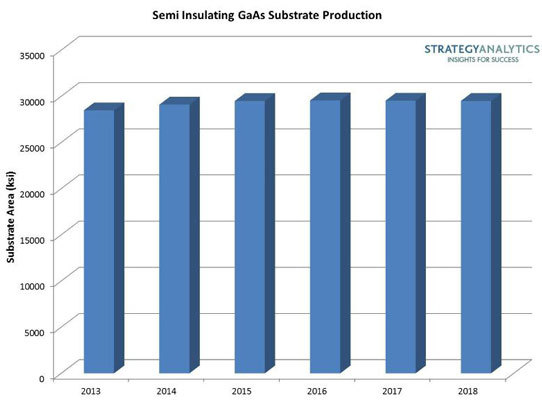 The report concludes that demand for semi-insulating GaAs bulk substrates fell by nearly 2% in 2013. This volume decline plus increasing price erosion caused revenues to decline by 8%.
As a result, bulk substrate demand will rise at a compound annual average growth rate (CAAGR) of less than 1% through 2018. With price erosion returning to historical levels, the slow growth of substrate production will drop revenues to $160m in 2018.
"There will be challenging times ahead for GaAs substrate manufacturers," notes Eric Higham, service director, Advanced Semiconductor Applications. "The emergence of CMOS PAs and multi-mode, multi-band GaAs PAs will both act to slow growth and reduce revenue," he adds.
"The good news is that prior disruptions in the GaAs bulk substrate supply chain appear to have been addressed, but this means a return to historical price erosion rates that will pull revenues down," forecasts Asif Anwar, director in the Strategic Technologies Practice.
Tags: SI GaAs substrates
Visit: www.strategyanalytics.com