23 June 2014
Cree and Musco complete LED lighting overhaul of San Francisco-Oakland Bay Bridge
The California Department of Transportation (Caltrans) has completed its LED lighting overhaul to the East Span of the San Francisco-Oakland Bay Bridge. After three years of testing and designing custom fixtures, Musco Lighting of Oskaloosa, IA, USA provided LED lighting featuring XLamp XM-L LEDs from Cree Inc of Durham, NC, USA in order to illuminate the suspension tower and bridge deck. In total, the bridge now uses nearly 1600 custom-built LED light fixtures leveraging more than 51,500 LEDs, lighting the entire East Span at an estimated energy savings of 50% and lifetime of 15 years (more than seven times longer than previously deployed lighting technologies).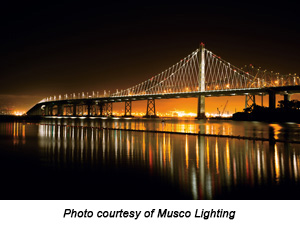 "We wanted the East Span of the Bay Bridge to not only be aesthetically pleasing, but also cost-effective and functional for travelers," says Andrew Fremier, deputy executive director at Bay Area Toll Authority.
Designed to withstand the greatest of earthquakes, the bridge required long-lasting, efficient and user-friendly lighting for the new 2047-foot East Span. After deeming a metal halide light source as an unsuitable solution for this application, Musco says that it has delivered uniform light with glare control using compact, custom-designed fixtures. Cree's XM-L LED light source provided a combination of high efficacy in a compact footprint, enabling Musco to reduce fixture size by reducing the number of LEDs and optics in the system.
"As LEDs evolved and continued to become more efficient, we knew the technology would allow us to develop a light fixture that could meet the bridge's meticulous design requirements with no compromises," comments Jeff Rogers, VP of developmental sales at Musco Lighting. "Cree delivered the performance, reliability and design flexibility for us to create a custom-designed solution," he adds.
In addition to the roadway and suspension cables, the East Span now features custom, optically directed Musco LED light fixtures along the bridge deck, bike and pedestrian paths, tunnel entrance and self-anchored suspension tower. Bay Bridge travelers hence benefit from a uniform and balanced bright light, delivered using precise optics that guide the light where it is needed to help eliminate light pollution and glare. Due to the long-term warranty, the LED fixtures also eliminate the need for frequent maintenance to replace or repair lights.
Cree's XM-L EasyWhite LED lowers cost for 25W replacement lamps
Visit: www.musco.com
Visit: www.cree.com/LED-Components-and-Modules/