5 June 2014
Diamond Microwave launches 2–6GHz GaN SSPA
Diamond Microwave Devices Ltd of Leeds, UK, which was spun out in 2006 from the diamond electronics team of Element Six and specializes in gallium nitride (GaN)-based microwave solid-state power amplifiers (SSPAs), is extending its range of SSPAs to include a 2–6GHz model that can be operated in either pulsed or CW mode.
Announced at the IEEE MTT-S International Microwave Symposium (IMS 2014) in Tampa, FL (3-5 June), the DM‑SC50‑01 is an ultra-compact broadband amplifier that complements the firm's existing SSPAs in the X-band and Ku-band. All of Diamond Microwave's amplifiers are suitable for use in demanding defence, aerospace and communications applications.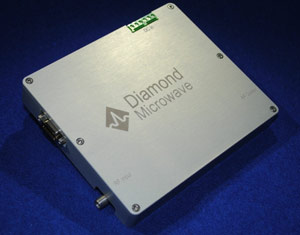 "We are releasing provisional data at IMS 2014 for a new 2–6GHz ultra-compact design, which is demonstrating 100W peak power in pulsed mode at 2GHz and an average power capability of 50W across the full band," says managing director Richard Lang. "This amplifier measures only 120mm x 100mm x 20mm, excluding the heat sink," he adds. "Once again we are pushing the boundaries of solid-state power amplifier technology with an extremely compact solution."
The amplifier designs are flexible in layout and architecture, and are fully customizable to meet individual specifications for electrical, mechanical and environmental parameters. Amplifiers with pulsed power outputs in excess of 1kW and with multi-octave performance are also under development.
Diamond Microwave launches compact high-power X- and Ku-band GaN solid-state power amplifiers
Tags: GaN-on-diamond
Visit: www.diamondmw.com