10 March 2014
China's LED die revenue to grow 36.6% in 2014 to $1475m
Following the boom in expansion of the Chinese LED market in 2011, many industry insiders and analysts speculated on whether China would be able to sustain the growth, or if many companies simply ordered an excessive amount of metal-organic chemical vapor deposition (MOCVD) reactors just to benefit from government subsidies, states market analyst firm IHS in a new report on the Chinese LED market. The failure of many of the companies was widely predicted. So, what's happening in the China LED industry after three years?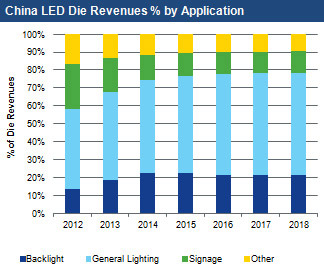 According to the report, China's LED die production revenue will grow 36.6% to $1475m and packaged LEDs will grow 14.8% to $4812m in 2014. China's largest LED maker Sanan (with a more than 30% share of die production in China) is actually expanding capacity. Its second-phase project in Wuhu is still going ahead this year, leading to the addition of new tools. Its largest rival Epistar will be directly competing this year to see which will be the world leader for total wafer capacity.
MLS was estimated to be the largest Chinese packaged LED company in 2013, with slightly more than 9% market share among thousands of other Chinese competitors.
General lighting is the major driving force for the China LED market growth from 2013 to 2014 and is forecast to rise from 49.1% share of all applications in 2013 to 51.6% in 2014. The acceptance of LED replacement T-lamps, the falling cost of LED lamps generally, the continued economic growth, and the phasing out of incandescent A-lamps are all factors that are increasing the penetration rate of LED lamps in China, says the report.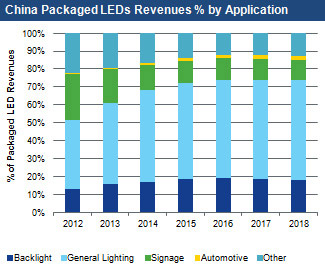 The backlight market also grew significantly from 2012 to 2013, by 74% in LED die (from 13.4% share of all applications in 2012 to 18.6% in 2013). High growth is expected to continue in 2014 due to Chinese companies' technology improvements to replace imported products from Taiwan and Korea.
Although the Chinese domestic market is huge, international sales for most Chinese LED companies remain fairly low, notes the report. However, they are catching up quickly. Larger companies are developing their own brands and IHS expects these suppliers to increase their presence in international markets in the near future.
Tags: LED market
Visit: www.ihs.com