31 March 2014
Pasternack launches X-band high-gain power amplifiers with high linearity performance
RF, microwave and millimeter-wave product maker Pasternack Enterprises Inc of Irvine, CA, USA has launched a new family of coaxial X-band high-gain power amplifiers. These RF amplifiers are typically used as driver amplifiers or high-power-output amplifiers in a wide variety of commercial, industrial and military applications, including telecom infrastructure, test instrumentation, fixed microwave backhaul, radar systems, communication systems, satellite communications and commercial avionics.
The new X-band power amplifiers are packaged inside hermetically sealed metal enclosures and exhibit high gain, gain flatness, high linearity and wide dynamic range. This performance is achieved by using a hybrid microwave integrated circuit design and gallium arsenide (GaAs) pseudomorphic high-electron-mobility transistor (pHEMT) technology.
The connectorized SMA amplifier modules are unconditionally stable and include built-in voltage regulation, bias sequencing, and reverse-bias protection for added reliability. The power amplifier over-voltage protection is installed externally for easy repair. The high-reliability RF amplifiers are fully matched internally for 50 Ohm input and output, eliminating the need for any additional sensitive external RF tuning components.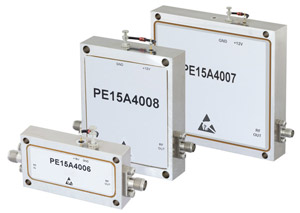 Picture: Pasternack's coaxial X-band high-gain power amplifiers.
The new amplifiers are suitable for high-linearity applications with frequencies ranging from 8GHz to 12GHz. They offer 30-41dB small-signal gain over a temperature range of -30°C to +70°C. Gain flatness ranges from 0.50dB to 1.0dB and the IP3 output (linearity) performs up to 44dBm. The new RF amplifiers are offered in 1 Watt and 4 Watt designs, depending on the configuration.
"The rapid growth of our active components offering signifies a new company strategy to further expand our reach in the RF industry," says active RF/microwave products manager Michael Rachlin. "Our new X-band power amplifiers represent the first installment toward the execution of this strategic direction."
Tags: power amplifier
Visit: www.pasternack.com/pages/