27 March 2014
Toshiba launches CSP white LEDs for lighting, cutting mounting area by 90%
Tokyo-based semiconductor manufacturer Toshiba Corp has launched ultra-small chip-scale-package (CSP) white LEDs for lighting applications that can reduce the mounting area by 90% compared to conventional 3.0mm x 1.4mm packaged products, the firm reckons.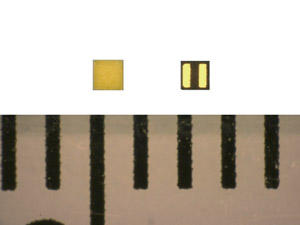 Picture: Toshiba's chip-scale-package white LEDs.
The new products use gallium nitride-on-silicon (GaN-on-Si) and a new process technology that fabricates the elements of a packaged LED on an 8-inch silicon wafer. With a package size of just 0.65mm x 0.65mm, the LEDs are reckoned to be the industry's smallest in the sub-watt class (1/4-1/2W) of white LEDs. However, they achieve luminous efficacy of 130lm/W (during 60mA operation) and what is claimed to be superior heat dissipation. Maximum forward current is 180mA. The color temperature is 5000K and the color rendering index (Ra) is 80 (minimum). Other planned color variants include 4000K, 3000K and 2700K.
Using the new white LEDs makes it possible to achieve a narrow beam in small-size lighting equipment, says Toshiba. Applications of the TL1WK series LEDs are light sources for general lighting, including straight tube lights, light bulbs and ceiling lights.
The TL1WK series LEDs are being showcased at the Light+Building 2104 trade fair in Frankfurt, Germany (30 March to 4 April). Sample shipments will start in April.
Visit: www.toshiba-components.com/LEDS